Animal Experimentation Examined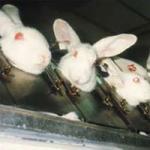 When the disturbing details of the violence that animal experimenters visit upon animals in laboratories are exposed by PETA and others, an increasingly suspicious and disapproving public is often told by experimenters and their hired spokespeople that animals are used only when alternatives are not available.
Yet, time and again, PETA's Laboratory Investigations Department uncovers situations in which animals—from mice to monkeys—are tormented in laboratories when modern non-animal methods are not only available, but are already in use at these very facilities right alongside the animals.
The use of animals for medical training is a case in point.  Right now, at the University of Michigan (UM), the Medical University of South Carolina (MUSC), and St. Louis Children's Hospital (SLCH), cats, pigs, and ferrets are still forced to endure invasive, painful, and often deadly medical training procedures even though all the facilities already teach the same exact skills to physicians and nurses in other courses using sophisticated humanlike simulators.
Leading medical professional organizations such as the American College of Surgeons approve the use of simulators to teach the same trauma treatment skills for which pigs still have holes cut into their limbs, chests, and necks and are killed at UM and MUSC.  And as a UM alumnus who is a member of PETA's Legal team pointed out in a recent letter to the UM student paper, last year, the school's Advanced Trauma Life Support (ATLS) course ended the use of animals to teach these same skills after its own Graduate Medical Education Committee determined that simulators were superior.  Earlier this year, MUSC also made the decision to replace animals in ATLS—but the school still kills pigs to teach identical skills in a course that goes by a different name. The mind reels at the waste and stupidity.
Similarly, faculty at UM and SLCH still insist on repeatedly forcing hard plastic tubes down cats' and ferrets' delicate throats for intubation training even though the facilities already possess and use simulators for this exact purpose and even though research shows that people who train on simulators are more proficient than those who learn intubation by maiming animals.  The American Heart Association—which  sponsors the most widely offered pediatric life support course in the country—has stated that it, "does not require or endorse the use of live animals" for intubation training and that it "recommends that any hands-on intubation training for [the AHA's Pediatric Advanced Life Support] course be performed on lifelike human manikins."
Yet, rather than simply admitting that perhaps they have been too slow to phase out these archaic animal laboratories and simply correcting their mistakes, these facilities have dug in their heels and are refusing to change. Rather than restoring the public's faith in their institutions, the physicians, scientists, and university leaders—people who are typically well-respected and trusted in our society—are instead abusing their authority to provide political cover to themselves and their colleagues. Many of these professionals will still shamefully resort to fabricating scientifically unfounded, bias-laden, and untruthful justifications in defense of cruel and outdated animal laboratories rather than own up to the fact that their own institutions, experts, and leading scientific authorities have already acknowledged the effectiveness—and the superiority—of modern alternatives to the use of animals.
I recently told Vanderbilt University's student newspaper that "most animal experimenters are cowards" who fight tooth and nail—and spend a lot of money—to hide and distort how they imprison, poison, mutilate, and kill animals, keeping this information from the citizens who unwittingly bankroll and otherwise support their cruelty.  In my experience, they are not above outright lying to defend the indefensible.
As Bob Dylan says, "You don't need a weatherman to know which way the wind blows."  A growing proportion of the public is opposed to animal experimentation of any sort. And I think it's safe to say that the general public, physicians, and scientists alike generally do not endorse animal experimentation at all when viable alternatives are available. Inevitably (and with a gentle nudge from PETA), the arms of people who think that they can continue to torment animals in these cases will get tired from swimming against the tide.
This guest post was written by Justin Goodman. Justin is Associate Director of PETA's Laboratory Investigations Department.