Correcting Unwanted Behavior in Our Animal Companions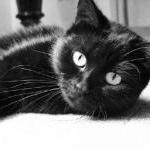 We love 'em to the point of obsession. When our dog or cat companions engage in strange and destructive behavior, we find ways to cope with it because breaking our commitment to them (which happens to millions of dogs and cats every year) is out of the question.
As a professional dog educator (I hate the word "trainer"), my main goal in life is to keep animals in their homes, with their families where they belong. If that means helping their humans understand and correct naughty behavior by teaching them new forms of behavior (I hate the word "commands"), then I guess I made a difference in the life of that "starfish."
So here are some tips that I have learned over the years while caring for different animal companions:
From my experience working with cats and dogs in the past, I have found cats to be creatures of habit. The ones I dealt with did not do well with even the smallest amount of change. A new piece of furniture, a new house, or, heaven forbid, a new family member, whether human, canine, or feline, can cause severe stress to even the calmest and most collected cat. And stress is one cause of a major challenge for feline guardians: the dreaded "litterbox problem."
Sometimes that stress is well deserved! For instance, not long ago, I adopted a little kitten, Mikey, who thought it great sport to ambush my 2-year-old resident cat, Patrick, when the latter visited the litterbox. Patrick, understandably, started avoiding the site of these assaults and began peeing out in the open, on the carpet, so nobody could sneak up on him. My solution was to tear up the soiled carpet, replace it with tile, and move the litterbox to a place where Patrick could see all the way around himself. Many multiple-cat households need one more litterbox than there are resident cats in order to keep everybody happy.
All it takes is a little understanding of what is causing the problem; change must come slowly. If Fluffy suddenly stops using the litterbox, check with the vet—it could be a urinary tract infection, which is easily treated. If that's not the problem, analyze where she is urinating. If she's using the blankets on the bed, the litter may be too shallow (she's looking for something deeper so that she can bury her waste). If she's using a flat surface, try using less litter. In other words, try to simulate whatever she seems to prefer.
As for dogs, my experience has been that they do better with change than cats do, but when problems emerge, the answer is the same. Try to figure out the source of the unwanted behavior. Remember that dogs never do things out of spite, and they don't understand guilt, as in, "He knew he did something wrong—he looked guilty." If my dog slinks away from my arrival at "the scene of the crime," it's because he figured out that  "Momma's mad—I better go hide."
To stop Fido's unwanted behavior, catch him in the act just as you would do to reinforce a desirable behavior. I know that I can't come home hours after my dogs have chewed up my shoes or peed on my carpet and say, "Bad dogs!" because they just will not get it. Conversely, you can't tell them to sit and then 30 minutes later give them a treat and expect them to learn to sit in order to get the treat.
We put up with a lot from our animal companions because we truly love them. And they love us, too—think about how much unwanted behavior they put up with from us day in and day out!
How about your experiences? How have you managed to deal with some of the more common behavioral problems?