What Steve Martindale Taught Me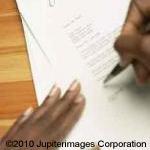 I think that all of us PETA Primers have the same goals. We want a safe and secure retirement, want to make sure that our loved ones are taken care of, and want to keep helping animals not only while we are alive but also after we are gone.
A very important part of meeting these goals is structuring estate plans and wills to minimize taxes. It goes without saying that after I am gone, I would prefer it if my hard-earned money went to PETA and local animal shelters instead of the Internal Revenue Service.
So I am sure that you are wondering who Steve Martindale is. He is the PETA Foundation contact who first opened my eyes to how I can continue to help animals even after my passing. Until I talked to Steve, I was only thinking about estate taxes when I was making plans. I didn't realize that by listing my estate as the beneficiary of my retirement plans-e.g., 401(k) plans, individual retirement accounts, life insurance plans, and annuities-the funds from these accounts would be subject to income tax in the year that I die, before the funds even went to my estate. I didn't realize that if I list a charity as the direct beneficiary of my retirement plans, the funds from these accounts won't become a part of my estate and can go to the designated charity tax-free! I have since confirmed these tax laws with my accountant and estate lawyer, but neither one of them had informed me previously about these all-important gift-planning options. Steve did inform me, and these options make a big difference. Beneficiary assignments take priority over your will or trust. And did you know that you can also leave your bank accounts and investment accounts directly to PETA and avoid probate?
I want to encourage all of you to contact the Planned Giving Department at the PETA Foundation before finalizing your wills. Of course, the department recommends that you consult with your attorneys and financial advisors when making any plans. I have never met Steve in person, but I have talked to him many times on the phone, and he has helped me more than all my accountants and estate planners put together. And it hasn't cost me a cent.
If you decide to include a gift to PETA in your estate plans or have done so already, please let PETA know.  PETA will want to thank you personally for your compassion and also welcome you into the Augustus Club.