Prime Epiphanies: How peta2 Stole My Heart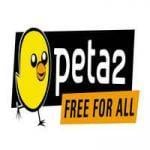 "Prime Epiphanies" showcase our readers, employees, and supporters and why they became a part of the animal rights cause. If you would like us to feature your own epiphany about animals, please e-mail it to us for review at [email protected].
Years before I worked at PETA, I used to love meat. All my favorite foods were animal-based. I occasionally encountered a rogue vegetarian, but I never thought twice about my eating habits. That was, until I signed up for the philosophy class Contemporary Moral and Social Issues during my freshman year at the University of Southern California.
I and the other hundred or so students spent about two weeks reviewing the ethical consequences of various issues, ranging from the death penalty to racial discrimination to voluntary euthanasia. And, of course, animal rights. This is where my life changed, and it's what led me to where I am now: an animal-loving vegan activist working to raise funds for PETA.
I consider myself a rational person (don't we all think that about ourselves?) who bases most of my decisions on conclusions reached through a logical progression of thought. I can only assume that I had never become a vegetarian before that class because I had never taken the time to really think about how I felt about animal abuse. Not just someone mistreating their dog, but about the abuses I was personally supporting every single day while eating meals, washing my hair, and putting on my shoes. Those two weeks forced me to think about what my opinion was (the screening of "Meet Your Meat" on the giant projection screen might have had something to do with it too), and I concluded that there was no logical reason against at least trying a vegetarian diet. So that day, instead of ordering the turkey burger in the cafeteria, I got the veggie burger.
I might have left it at that, but the funny thing about being a vegetarian is that everyone wants to challenge your dietary decisions. As much as I would have just loved to eat my veggie burgers in peace, I was constantly forced to defend my reasoning. And as more and more challenging questions were tossed at me, I wanted to be prepared to answer them and ultimately win the "debate." Because of this, I found myself frequently visiting the PETA Web site. The more times I visited, the more I learned.
This was only a couple of years after peta2 had launched, and I can personally vouch for the effectiveness of that brilliant program. peta2 reached me at the popular Warped Tour music festival. They engaged me online with captivating videos—some introduced and narrated by my favorite bands—that helped educate me on the plight of animals. By my senior year, I knew that I wanted to dedicate my life to helping animals, and that's exactly what I did as soon as I graduated.
Now I have the absolute joy of raising money to support peta2 and PETA's TeachKind program, and hopefully, I help change the lives of other young people the same way mine was changed. PETA is incredibly effective at creating programs and materials that reach out to people at their level. Teachers, elementary kids, high-schoolers, and college students all receive information in a way that really speaks to them, instead of using one blanket message for everyone. This is exactly why PETA has won so many awards for creative campaigning and marketing and was listed as the number one overall nonprofit organization that people aged 13 to 24 would volunteer for, according to a leading youth-marketing research company study.
I only wish that I could have attended one of the debates by the highly respected and articulate Bruce Friedrich while I was in college. He tours the country challenging university debate teams on the issues of veganism and animal rights and presents his case (animals' case, really) eloquently and confidently. If students don't get to attend the actual debate, campus newspapers always write up a report the next day. These articles commonly mention how Bruce's persuasive argument is difficult to compete with. This is such a great way to reach young people who are at that perfect age, just now defining who they are.
I am grateful that I signed up for that class all those years ago. I can't imagine who I would have become without it! I have since written to my professor and thanked him for changing my life. He is still teaching the class—and most certainly changing another wide-eyed college freshman's life.
When did you have your own epiphany about animals?
Kalista Barter is a major gifts officer for the PETA Foundation in Oakland, California, who loves to be outdoors every chance she gets. She enjoys showing people how delicious vegan food is with her newfound culinary skills.