PETA's Clinics Meet Record Need With Record Spay-Neuter Total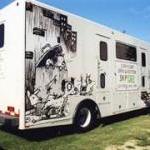 June was a record-breaking month in PETA's work to stem the animal overpopulation crisis. Our SNIP (Spay and Neuter Immediately, Please!) and DogDoc mobile spay-neuter programs performed 1,011 surgeries in just 30 days, the first time we've surpassed the 1,000 mark in a one-month period (the previous record was 975). The program's dedicated staff achieved this milestone despite the repeated breakdown of one of the mobile clinic's air conditioning units during days that were at record-breaking levels for temperature—even for the southern U.S. region the clinics regularly operate in.
The economy has hit the Virginia/North Carolina border region that the clinics serve very hard, and PETA is receiving more calls for free spay-neuter services than ever before. In addition to the 14 free pit bull surgeries that the clinics provided in June, 133 families from households in desperate need of help received free or low-cost services for their animals.
June was "Adopt a Cat" Month, so those working desperately to find homes for cats who are already born can sure celebrate PETA's 532 feline surgeries in June, and everybody can jump for joy at knowing that 189 "early" spay-neuters were performed so that those pups and kittens will never breed.
Sponsors of SNIP and ABC make lifesaving surgeries like these possible. Thanks to you who have already made a donation in support, and special purrs and tail wags to everyone who celebrates this new record with a new gift.