PETA Employees Hit Pride Parade!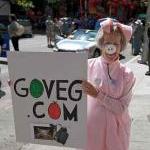 For the second year in a row, compassionate vegetarians and vegans of all ages, races, and sexual orientations came out to San Francisco's legendary gay pride festivities. Together, they marched through the heart of the city to showcase the many benefits of choosing a compassionate and healthy plant-based diet. Of course, any time that there is a chance to reach out to huge crowds of people, PETA will surely be there.
Decked out in fun and unique costumes, we danced our way around the crowd and grabbed people's attention. We handed out copies of PETA's vegetarian/vegan starter kits, which are filled with nutritional information, reasons to go vegetarian, cute stickers, and recipes for yummy vegan dishes! Our festive music matched our decorative float, and everyone was so excited to not only see us in all our glory but also receive information about a vegan lifestyle. East Bay Animal Advocates, Bay Area Vegetarians, In Defense of Animals, and PETA all joined forces for this massive event, and more than 100 caring supporters handed out approximately 17,000 vegetarian-related pamphlets in just one hour.
Being able to distribute this much educational material in such a short period of time is a huge accomplishment for any outreach event that benefits animals. We used our lively costumes, happy faces, and, might I add, sweet dance moves to draw attention to the ever important plight of farmed animals. By providing thousands of people with the power and knowledge to change their lifestyles and eating habits, our efforts could really help to reduce animal suffering, protect the environment, and improve the health of those whom we were reaching out to.
We received incredibly positive feedback, and a feeling of deep accomplishment was felt by all who participated—especially when people began posting on our Facebook page that they had received the information and that they wanted to go vegan because of it.
As vegetarians and vegans, we face the sorrow of animal suffering every day, and most of us feel it to the core of our souls. We rarely have the opportunity to just let loose and have fun, but this was our chance, and we reveled in every second of it!
If you are ever in the Bay Area around the time of these festivities, please come and join us. We'll be looking for you next year! The following are some great photos from the event courtesy of PETA supporter extraordinaire (and fantastic photographer) Steve Sprang.
This post was written by Shani Campbell and Michelle Cehn. Shani is a Bay Area native and President of East Bay Animal Advocates. She also works with children who have autism and part time with PETA. Michelle is PETA's Community Fundraising Program Manager. She is also the founder and past president of the Case Animal Rights & Ethics Society in Cleveland, Ohio. She loves to spend her weekends doing community veg outreach and encouraging animal lovers to get active and involved!