Real Men Eat Tofu!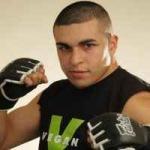 Vegan men are setting strength and conditioning records and living to ripe old ages with vigor, style, and flair. This trend is making headlines in spite of the relentless barrage of marketing tactics from the meat and dairy industries trying to convince us that shoving animal corpses down our throats makes us macho and popular and that we need cow's pus in order to grow a mustache.
I speak as one who, in my youth, bought into that cynical take on masculinity. I was raised on beef and milk and went on to explore the world of whale meat, squid, and gin in a reckless effort to prove how tough I was. Looking back, I can say with certainty that my level of health and fitness is far greater now than it ever was before I adopted a totally plant-based diet.
My transition to veganism was not a one-step process. Like many, I first dropped beef from my diet, then pork and chicken, then eventually fish and other seafood, and finally eggs and milk products. Each step was the result of more education about the suffering of animals who are used for food, and each step made me feel better both physically and mentally. Along the way, I competed in triathlons and open-water swims, earned black belts, competed in Taekwondo and Hapkido, and got into the best physical condition I have ever been in—especially on an age-relative basis. Can I run faster now than when I was 19? Probably not. But I've got more vigor and joie de vivre than ever, and I'm drug—and alcohol—free! Aside from saving animals and enjoying a natural, compassionate lifestyle, I've been amazed at how much more energy I've had and how much healthier I feel. I only regret that I didn't discover the many benefits of a vegan diet 40 years ago.
It turns out that I am not alone. Vegans are the new macho men.
One day last week, I ran 8 miles in 65 minutes, according to the computer on my gym's elliptical machine. It was a personal record for me on that device, and I celebrated by taking the rest of the day off to recuperate. And so it is that I salute Scott Jurek, who can keep up a pace like that for 24 hours straight. How does he do it? For starters, he's 100 percent vegan. Of course, many athletes are vegan once their competition or exertion is underway because meat is too hard to digest and therefore can't provide the fuel that is needed for continuous exercise. Nutritional science confirms that vegan diets provide not only the fuel that is needed for endurance but also the protein that is needed to build muscle mass—without the fat and cholesterol that comes from eating dead animal flesh.
Speaking of muscle mass, check out Torre Washington and his friends at VeganBodyBuilding.com. See how you do trying to take the puck away from NHL powerhouse Georges Laraque (6-foot-3 and 245 pounds), or try to keep Tony Gonzalez (6-foot-5 and 250 pounds) from catching a football. Gonzalez holds the following NFL records for all tight-ends: most catches, most touchdown catches, most 100-yard games, most 1,000-yard seasons, and most Pro Bowl appearances (10). Or climb into the ring with Ricardo Moreira.  And then tell me that vegans aren't the new macho men! Eating helpless animals is just not manly.
Of course, there are also the thinking man's real men: Albert Einstein, Leonardo da Vinci, George Bernard Shaw … but since summer is upon us, let's stick to physical conditioning and take the pledge to get in better shape with a healthy vegan diet!
Any other vegan men out there with similar experiences?