Volunteering With Animals in South Africa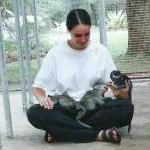 I've always loved animals and traveling, so I decided to combine the two through a volunteer program, and what I got was an adventure of a lifetime.
In 2002, I arrived in South Africa to begin my 10-week journey helping animals. First stop: a vervet-monkey rescue center. In many parts of the world, certain animals are considered by farmers to be nuisances or vermin, and instead of figuring out a humane solution to keeping them away, farmers resort to shooting them. In South Africa, this leaves many monkeys maimed and many baby monkeys orphaned. The rescue center where I volunteered takes in these monkeys and nurses them back to health until they are well enough to be released back into the wild or housed in the center's "wild habitat." While there, I helped take care of a group of four orphaned babies. It was a dream to be in their company each day—I'll always remember their unique personalities and cute faces!
My next stop was to a private corner of Kruger National Park. While there, I really immersed myself in the bush, and I studied the behaviors of common African animals such as wildebeests, giraffes, baboons, lions, and even spiders. I slept in a rustic tree house, where by day, I recorded the species, sex, age, and condition of all the animals and birds who came to the watering hole—including troops of baboons—and by night, I slept under the stars listening to the sounds of the bush, imagining what was crawling overhead and prowling below. The night finally came when I heard the unforgettable roar of lions. I scanned the area with my flood light, and less than 50 feet away was a pair of lions sitting on the watering-hole ledge. I didn't sleep much that night, considering that lions can climb trees!
Next stop: working with snakes. Calls came in each week to the center from people in surrounding areas who discovered uninvited snakes in their homes and needed help removing them. The community knew that we discouraged people from taking the matter into their own hands, which usually involved killing the snakes. The center educated the public about ways to deter wildlife and snakes from entering the house in the first place. During my time there, I assisted with rescues, surgeries, educational lectures, and the not-so-glamorous task of cleaning cages. On one very scary occasion when the center's rehab specialist removed a black mamba—one of the deadliest snakes in the world—from a cage, I reached in to begin cleaning and suddenly jumped back when I realized that there was another mamba in there hiding under a bin! Considering that if I had been bitten, I'd have less than an hour to get to the hospital—and the hospital was more than an hour away—my life flashed before my eyes.
Last stop: a wildlife rehab center. This is a well know sanctuary in the area for the rehabilitation and care of abandoned, injured, and poisoned wildlife. Animals there are nursed back to health and released back into the wild if possible, and those who aren't able to be released remain at the center to live out their days in peace and comfort. While I was there, I met many animals, including an orphaned hyena whom I bottle-fed, a worn-out tiger from a circus, and a feisty honey badger. National Geographic also stopped by for the day to film some of the rescued animals there. I assisted with surgeries, took walks with Portia the cheetah, and cared for the many different species of animals staying there.
After my working experience, I spent a week driving around Kruger National Park. This is the animals' wild habitat, so you're not allowed out of your car—for their safety and yours—and you must be behind the gates of the sleeping areas from sundown to sunrise. I drove on dusty dirt roads for hours each day and kept my eyes peeled for anything and everything. I spotted many beautiful animals, including elephants, zebras, giraffes, buffalos, impalas, lions, hyenas, and birds, and I even saw one elusive leopard sprint through the thick bush. It was one of the most peaceful times in my life … alone surrounded by wild animals living life naturally. There's nothing quite like seeing an elephant or giraffe in his or her wild habitat surrounded by family—it will make you never want to visit a zoo again, where animals are confined to small spaces behind windows and fences, living lonely, boring lives and denied everything that is natural and important to them.
My trip to Africa was a once-in-a-lifetime experience. I was able to immerse myself in a new culture and at the same time give so many animals a second chance at life.
Has anyone else been lucky enough to do a volunteer trip helping animals?
This guest post was written by Robyn Moore who is the PETA Foundation's creative copy manager. She has her master's degree in education and is an avid traveler who has taught English in Nepal, volunteered with wildlife in South Africa, and lived abroad in Switzerland.