PETA Employee Rescues Gull!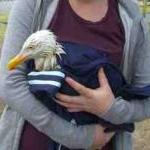 On a sunny Saturday afternoon in San Francisco, you'll find most people jogging along the Embarcadero or sipping a glass of wine on an outdoor patio. Go a little farther south, however, and you come upon a part of San Francisco that somehow got skipped in Frommer's: the rendering plant.
Aside from its obvious purpose, the rendering plant is also home to a colony of feral cats and a resting place for hundreds of sea birds, all under the umbrella of a noxious, permeating smell. On any given day, you can walk among days- or months-old corpses of birds and almost invariably find an ailing animal. This made the plant an obvious choice for where my friend Kelle and I would be spending our afternoon.
With our rescue materials in hand, we set out on our search and within minutes found a gull coated in oil. He was severely underweight because the oil on his wings had been preventing him from flying and hunting. He was quite skeptical of us and kept backing up toward the Bay as we cautiously approached him. He finally plunged into the water and struggled to stay afloat. When he reached an isolated marsh spot about 50 feet from land, we knew that if we didn't get him right then, he could drown. So we looked at each other, and by the time I said, "I'm going in," I had stripped off my pants and shoes.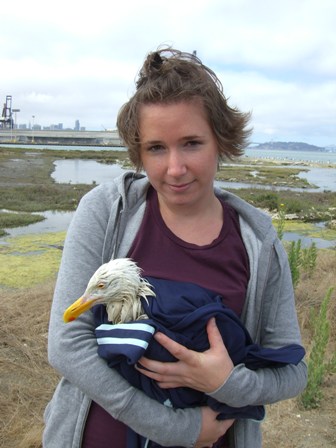 It was my turn to plunge into the freezing water. I made my way over as Kelle was shouting reminders of the proper way to pick up a gull-I was focused on the proper way to climb barefoot over sharp, slippery rocks without killing myself. When I got to the gull, I could tell that he had resigned himself to his fate. I assured him that we were there to change that. I (properly) picked him up and started the treacherous trek back; all while, Kelle thought it necessary to take photos of me in my underwear wading through the Bay.
Once back, we immediately wrapped the gull's cold body in a sweatshirt, placed him in a rescue box, and headed to a local wildlife rehab center.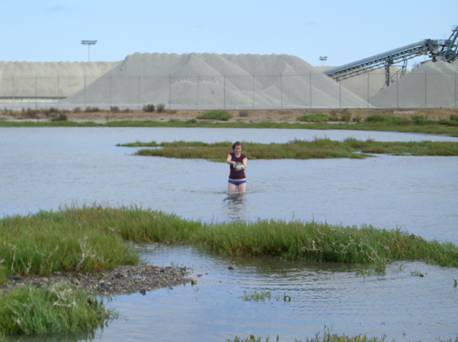 We kept up with his progress, which was slow but steady. About a month after the rescue, we learned that he was being released back into the wild! Knowing that he was getting a second chance at life was well worth the photos of me that circulated on Facebook. So if you should find yourself on a day with nothing to do, remember this: You never know who might need your help, so choose your underwear carefully.
Jaci Kassmeier works as an events manager for PETA. She lives with her companion dog, Durjo, who weighs 110 pounds but is as quiet as a mouse when he's sneaking up on your lunch.