My Trip to Haiti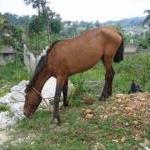 After the devastating earthquake in Haiti, PETA Prime posted a brief update on the situation there. As a result, we received a great number of inquiries on what life is like on the ground now. PETA Foundation employee Dinali Abeysekera recently visited the country and shared with us details about her trip.
I just returned from a short, yet inspiring, trip to Haiti to visit AMURTEL-an international development organization. Haiti, struck by a devastating earthquake in January, is still in the midst of pulling itself out of disaster mode and into the long and hard recovery and rebuilding phase.
Buildings lay collapsed, floors pancaked one on top of another, assuring that bodies still lay inside. People have shifted to refugee camps built out of scrap materials and tarps, and aid representatives are frivolously driving around, trying to figure out how on Earth to reach the millions of affected people.
What is often ignored among the chaos and rubble are the millions of individual animals affected by this disaster. With more than 200,000 people dead and more than a million people newly homeless, what was once adapting to scarce resources has turned into surviving on non-existent ones. Food scraps or shelter that might have once been available for animals in this poverty-stricken country can no longer be spared. From overburdened donkeys in the countryside to homeless street dogs in the city, animals have never known an easy existence in Haiti. But somehow, life has become all the more awful for these beings, who are often left at the bottom of the barrel.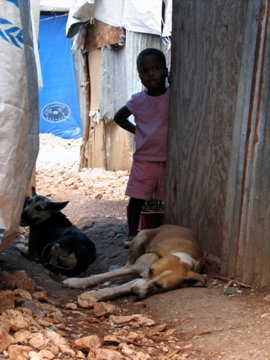 As I traveled through Port-au-Prince and visited several refugee camps, it was easy to see what this suffering looked like. Several dogs lay around the camps, many of whom were pregnant. Dogs in the camps were well fed, but those without guardians were mere skeletons, scared, lonely, and roaming for food. Outside one camp, I spotted an emaciated pig with her babies, tied up near the remnants of a ruined building. She desperately foraged for food while her little ones lay in the shade.
It's a scene that is still repeated over and over again even months after the devastation-neglected, starving animals, who continue to breed and bring more animals into this miserable existence. These scenes made me feel so much more thankful for the quick response and work of the Animal Relief Coalition, which is working in Haiti to reach these suffering animals. The Animal Relief Coalition, supported by PETA, arrived in Haiti right after the earthquake to assist distressed, injured, and abandoned animals. Kind individuals who take in strays, rescue organizations like Animal Relief Coalition, and nongovernmental organizations like AMURTEL that have cared for and adopted street animals are a ray of hope for animals in this battered land.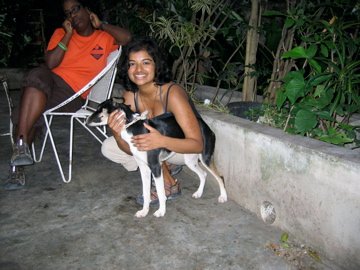 Despite these terribly hard times and with our collective effort, I know that Haiti will see a much brighter future, for all the beings who reside on its land.
If you'd like to find out more on how you can support PETA's work for animals both before and after disaster strikes, click here.
Dinali works in PETA's Major Gifts Department and works directly with some of PETA's best donors.  She also involved with Haiti's disaster relief and reconstruction efforts through AMURTEL, and international development organization