Would You Eat Lab-Grown Meat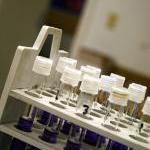 adobemac / CC
The members of my family who are of Dutch descent continue to eat a variety of the traditional foods of our ancestors, but I don't think that any of them will be first in line to buy the lab-grown meat that scientists at Eindhoven University of Technology in the Netherlands have developed.
But I've met a lot of folks who will eat anything made of meat—be it a Slim Jim, a nasty hot dog that has been on a gas-station grill for a decade, or pig feet that have been floating in a jar. So maybe they'll eat this lab-grown meat when it hits the market in the next five years. That would be a good thing for animals, don't you think? It would also be good for the environment.
If the tissue from one of our pig friends replaces 1 million animals, that means a lot of animals won't be confined on cruel factory farms, shoved onto crowded transport trucks, and slaughtered in assembly-line fashion. That's why PETA issued a million-dollar challenge to scientists around the world who are working on developing lab-grown meat.  Right now, the Dutch product, which is still in the early stages of development, has reportedly been likened to soggy pork. I'll stick to potatoes and sauerkraut, thanks.
I'll also continue to promote the vegan resources that are offered by PETA, including the yummy recipes at VegCooking.com, in order to help people make the switch to a truly humane diet.
Regardless of whether or not you would eat it, do you think that lab-grown meat will fly with dedicated meat-eaters? Do you think it will be good for the animal rights movement?