Real Change for Your Dollar—How Investing in PETA Is Fail-Safe!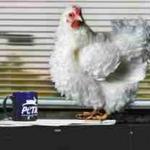 There's a lot of investment advice out there for folks looking for a return that will improve their lives. When we donate to a charity, we're making an investment in their ability to meet a mission we support as reflected in current and future programs. Do you think about your own charitable giving in that manner?
PETA's 2009 Annual Review clearly beats any "market average" for making change for animals! There's plenty of evidence that PETA is the internationally recognized leader and trailblazer in the fight against cruel animal tests, but every single page of the review shows outstanding gains.
Investors are warned to look at portfolio management fees and other administrative costs. Again, PETA provides a great return on every single dollar "invested" in lifesaving work for animals. The financial statement notes that almost 81 cents out of every dollar went to programs that benefit animals. PETA's administrative and fundraising costs are well below the maximum amount set by charity rating analysts.
As you probably know, PETA victories often require a combination of tactics, including undercover investigations, unique protests, shareholder activism, and more. Talk about "face-to-face" advice about your investment (in protecting animals)-just check out the review's new "map of accomplishments" feature!
What victory from the review are you most proud of as a smart investor in change for animals?