Prime Inspirations: D.C. Meat-Free Week—A Lesson in Community Event Planning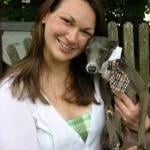 A community event is a great way to educate people about the benefits of a vegan lifestyle. Community events provide you with an opportunity to reach a broad audience in a short period of time and have a great time while doing so. Almost anything can be a reason for a celebration that highlights a cruelty-free lifestyle. May, for example, is National Hamburger Month. What better time to organize an event highlighting your city's best veggie burgers!
In February, I found my inspiration for planning a citywide vegan event: My hometown, Washington, D.C., was participating for the first time in National Meat Week. Much like it sounds, Meat Week is a week-long event during which participants gorge themselves on barbecued meat. I knew immediately that there needed to be an alternative point of view to Meat Week, a different voice—one for health, the environment, and animals.
I wanted my event to be an immediate response, while Meat Week was still fresh in people's minds. Unfortunately, I learned of Meat Week after it had already begun. This left me with just a few days to plan what eventually became known as Meat-Free Week—a week-long celebration of vegetarian and vegan meals, featuring a different restaurant in the Washington-area each day.
I knew that, in order to make Meat-Free Week a success on a very tight schedule, I would need a team of equally inspired individuals. While it's entirely possible to organize an event on your own, your occasion will undoubtedly benefit from the diverse talents that a group can bring. Your fellow volunteers may provide much-needed baking, artistic, or technical abilities. My group collaborated by using our contacts in the restaurant world, and we reached out to them quickly in order to seek their participation in Meat-Free Week.
Our experience was, simply put, extraordinary. The Washington restaurant community embraced our idea eagerly, and we were able to expand our original week-long concept to eight days. The participating restaurants were some of the city's best and included RAMMY Award winners, America's first certified organic restaurant, the 2009 OpenTable.com Diner's Choice Winner, and Washington City Paper's Best Bakery and Best Vegan Restaurant of 2009. The first lady has dined at two of the restaurants, and President Obama even joined her at one.
But, of course, our fantastic restaurant lineup would have been for naught had we failed to publicize our event. When thinking of your event, determine what type of publicity would be most effective: postering, e-mailing listservs, chalking, or other forms of marketing such as reaching out to local blogs and newspapers. For Meat-Free Week, my group prepared a media release, which we then shared with those media outlets that had covered Meat Week. Amazingly, word of Meat-Free Week spread well beyond our expectations, and coverage was picked up internationally. Even the creators of Meat Week encouraged their participants to come out to find some balance by joining our cruelty-free celebration.
While a community event can demand much of you, it is also immensely rewarding. PETA has suggestions and resources at http://www.peta.org/actioncenter/act.asp. Just remember the following steps: find your message, recruit a team, use everyone's talents to organize, and let the community know what you're doing. Then, don't forget to say "Thank you!" to everyone who made a contribution. Finally, learn from what you did right and what went wrong and plan an even better event for animals next time. You haven't heard the last of Meat-Free Week!
Have you planned any vegan or vegetarian events in your neighborhood?
Amber McDonald is a PETA Prime reader; a Washington, D.C., lawyer; and a writer for Washington-area vegan blogs. Amber is currently writing a vegan cookbook.