PETA Stems the Southern Flood (of Pups and Kittens)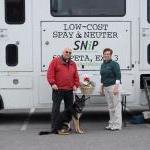 Did you know that February 23 is Spay Day? Every year around this time, we take the time to reflect on why it is important to make sure that your animal companions are spayed or neutered.
When I moved to Norfolk to work in PETA's headquarters, I was appalled at the prevalence of feral cats and roaming dogs. But I really felt like I'd entered a time warp when I drove a few miles south into northeastern North Carolina. The treatment of (or more accurately, the complete disregard for) so many animals and the lack of basic animal control policies was worse than when I had entered animal sheltering work decades before in Ohio. But PETA is all about creating change.
Nothing has changed the situation more for dogs and cats in the border region of North Carolina and Virginia than PETA's mobile clinics. The original Spay-Neuter Immediately, Please! (SNIP) clinic has been joined by the Animal Birth Control DogDoc clinic. Last year was a banner year for the struggle to end companion animal overpopulation in the poor urban and rural communities served by PETA's clinics.
Approximately 8,677 spay-neuter surgeries were provided, which will prevent the births of at least 62,472 kittens and 55,536 pups just in the next year. That's easily equal to the shelter intake for one year! The local shelters (where they exist in these areas) are bursting at the seams, so no adoption program can possibly solve the problem, and exporting pups and kittens to shelters in areas with a lower population also doesn't address the root of the issue.
PETA not only drives the clinics into towns where there are no veterinary services at all (let alone a low-cost clinic) but also uses creative grassroots work to reach people. PETA's Community Animal Project (CAP) volunteers march in the "Peanut Parade" (this is the South, after all) and go door to door trying to help outdoor dogs (many of the animals who receive free doghouses from PETA are also spayed or neutered by SNIP). PETA now has a full-time employee in North Carolina who drives a small van to remote residences (many on roads with no street signs) to pick up dogs or cats to take to the clinics. Last year, PETA gave a free round-trip ride to the clinics to 562 animals. It was definitely the first ride that many of these animals had ever had!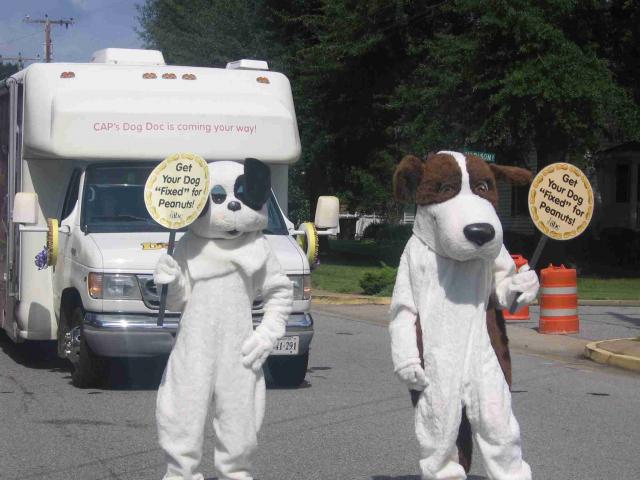 PETA has also worked to have legislation passed that promotes spay and neuter surgeries.
PETA's clinics are among the few that provide "early" spay-neuter (which not only prevents accidental litters and helps the shelters we serve with pre-adoption sterilization but also helps the individual animals avoid many health problems), and last year, 2,917 puppies and kittens were "snipped" so that they'll never have a litter! Our clinics also helped the most abused breed of dog by providing 210 low-cost or free surgeries to pit bulls, and feral cat caretakers brought 735 felines in to move us closer to the day when there are no outdoor cats.
One local shelter reported that they received 100 fewer pups than the previous year, and they attributed the decrease almost entirely to PETA's mobile clinic services. The flood of dogs and cats needing homes continues, but PETA's local and national programs are helping to stem the tide. Have you waded into this issue?