Help Wild Horses!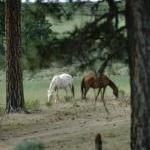 All across the Western U.S., our last remaining herds of wild horses are being violently rounded up by the U.S. Bureau of Land Management (BLM) and forced into government holding pens. These horses are supposedly put up for adoption, but few are actually adopted into long-term homes. Most are warehoused or end up being shipped to Canada or Mexico for slaughter.
According to federal officials, the roundups are necessary because the land is overpopulated by wild horses and could become uninhabitable to other wildlife. The truth is that BLM has leased millions of acres of the wild-horse and burro rangelands to cattle interests. The land, which was mandated in 10 states for America's wild horses and burros by the Wild Free-Roaming Horses and Burros Act of 1971, is now being grazed by 7 million head of cattle. The cattle are eating all the forage and drinking up the scarce water supply, and the wild horses are being blamed and forced out of their homes.
I have a special affection for wild horses not only because they are fellow vegetarians but also because they represent freedom and the wild spirit within all of us. I have written to my legislators and the BLM to demand that they stop the wild-horse roundups in Nevada, Montana, and Utah. I donate to horse rescue groups and sanctuaries, but unfortunately, providing sanctuary for horses is very expensive. Most of the sanctuaries are already stretched past their limit.
I am afraid that the only way that the wild-horse herds will survive is if the market for beef dries up. As long as there is a demand for beef, the interests of the cattle ranchers will override the interests of the wild horses, and the horses will have nowhere to live and no range to call their own. When all is said and done, the only real solution to the problem is to convince people to stop eating cows.
Please add your voice to mine and e-mail the BLM at [email protected] to let the agency know that the survival of wild horses on their native lands must take precedent over cattle grazing.