Teeny, Tiny 'Teacup Terriers'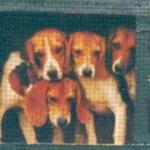 So the other day, I was standing in the line at the post office, and I noticed that the woman in front of me had a pooch in her purse. I commented on her little dog, and she told me that he was a "service dog." Being that the dog was all of 2 pounds, I doubted her sincerity, but that's a story for another day. Today's story is about where that teeny, tiny tot may have come from.
I blame Paris Hilton.
It was Paris who first strutted her miniaturized Chihuahua around Beverly Hills, the unfortunate animal practically worn on her wrist like a corsage. She quickly tossed him out on his 2-inch tail when he failed to stay under the breeder-guaranteed 4 pounds.
Aside from the woman in the post office, I've seen this time and again. Pet stores are stocking up on miniature dogs, and puppy mills and other breeders are churning them out in droves.
Nearly a decade ago, PETA investigators shed light on the horrendous conditions endured by sick and dying dogs and puppies in puppy mills on an NBC Dateline special. More recently, Oprah and Ellen DeGeneres both featured the issue on their talk shows. We learned more about where dogs in pet stores come from, how puppy mill owners cut the vocal cords of their dogs with scissors, and how tiny puppies are torn from their mothers to be transported in semi-trucks to pet stores across the country. As a humane educator, I frequently use PETA's six-minute puppy-mill video, featuring Charlize Theron. It's a powerful visual teaching tool, and even though I have seen it hundreds of times, my blood still boils and my heart still breaks when I watch it. It teaches my students that there is good reason to stay out of pet stores that sell animals.

To continue to breed animals in a country where countless dogs and cats are awaiting new homes in animal shelters—where about half of them must be euthanized every year-is irresponsible and immoral. But the problem is much bigger now. Now, we are not just fighting the American Kennel Club (AKC), we are also fighting hundreds of other little registries that have sprung up to answer the call for mixed-breed designer dogs, such as "purebred" Maltipoos, golden doodles, and puggles. Registries are also popping up for miniature dogs who cannot be registered with the AKC because it doesn't recognize miniature Chihuahuas, miniature bulldogs, or miniature Australian shepherds. Why would "man's best friend" need to have "papers" and a pedigree anyway?
There's a lot of work to be done. The dogs may be tiny, but the problem is huge. I will never get over the fact that some people are comfortable treating an animal who is supposed to be their best friend and companion as a fashion accessory.