Just Another Meat-Free Monday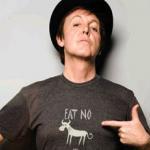 Former Beatle, longtime vegetarian, and all-around great guy Sir Paul McCartney has come up with an idea that we think has legs (but not a face):  Meat-free Mondays. In an effort to combat climate change—and of course— cruelty to animals, he's encouraging everyone to give up meat just one day a week. That doesn't sound so hard, does it?
Sir Paul touted the benefits of his proposal at a European Parliament hearing in December called "Less Meat = Less Heat." He pointed out that giving up meat just one day a week would cut as many emissions as a 1,000-mile car trip. "[Meat eating is] no longer a personal choice," he said. "[T]his is something that is going to affect the whole of the planet."
Already, Ghent, Belgium, has jumped on the idea and has announced "Meat-Free Thursdays." Hospitals in the U.K. are also mulling the idea of removing meat from their menus as a way of shrinking their carbon footprint. Several schools in England—Barham Primary School in Brent, Townley Grammar School in Bexley, and the Holy Cross School in Kingston-Upon-Thames— have adopted Meat-Free Mondays with the help of our PETA affiliate in the U.K., which provided free lesson plans and vegetarian recipes. Here in the U.S., the Baltimore City Public School System earned a 2009 PETA Proggy Award when it banished meat from all city school cafeterias on Mondays.
Be sure to visit the Meat-Free Monday Web site to watch a cute video of Paul McCartney singing the theme song. It's enough to persuade even Bob Geldof that he does like Mondays.