Bob Barker Says, 'Shut SeaWorld'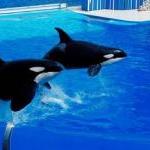 In the wake of the death of yet another trainer at SeaWorld, longtime friend to animals and dedicated PETA supporter Bob Barker has contacted Hamilton James-the president and CEO of the Blackstone Group, which acquired SeaWorld last year-to urge him to close all SeaWorld amusement parks. Barker also asks Blackstone to start building seaside sanctuaries and coastal refuges into which to move all the captive cetaceans who are now kept in fury and frustration in tiny concrete tanks that are unable to satisfy any of their natural needs.
Barker points out that SeaWorld's abysmal record of injuries and deaths of both trainers and animals is not going to improve as long as the amusement park continues to exploit the orcas, dolphins, and other highly social animals, some of whom were violently captured from their ocean homes and families and forced to learn circus-style tricks, which, according to whistleblower tips from trainers, employees "teach" by withholding food and isolating animals who refuse to perform.
The only thing that people learn from visiting a SeaWorld theme park is how miserable life is for the animals who are held there. Left to breathe and drink their own diluted urine and the waste of others in the tank with them, they languish for decades as shadows of their former selves. Many marine mammals develop vision problems from the chlorine and other chemicals that are put into their tanks, while some develop nutritional problems from the diet they are fed. Denied the simple pleasures of jumping in waves or choosing a mate, they face the inescapable noise of tens of thousands of visitors, whose steps actually vibrate through the walls of their tanks all day long, every day.
By taking the necessary steps to release these beautiful animals back in to the wild and replacing them with hugely popular and successful robotic creatures-like those used in the "Walking With the Dinosaurs" exhibit-SeaWorld would teach park visitors much more about these intelligent, complex animals without subjecting them to a lifetime of captivity. Urge SeaWorld to retire its unwilling, miserable, and frustrated marine performers before another human or animal dies, and share this information with everyone you know.
This post by Logan Scherer was originally published on The PETA Files.