I Was Never a Cat Person … Until I Met Whitney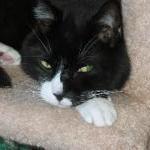 "You're a vet, and you've never lived with a cat?" Until I graduated veterinary school, I had to plead, "Yes," whenever this question crossed my path (although I didn't think it was a very big deal). I grew up with numerous wonderful dogs, whose love and companionship inspired me to become a veterinarian. As almost all my interactions with cats took place in an animal hospital, I have to say that for the most part, I didn't think I was missing much. All the cats who hissed at me or scratched me–even if they were simply acting out of fear–only cemented my somewhat negative impression of the species … until I met Whitney.
I was a new vet, working about 100 hours per week and wrapping up my internship year at the prestigious Animal Medical Center in New York City. I had just been accepted into a teaching residency at U.C. Davis, and I was looking forward to my first trip to California. Despite spending so many hours at the hospital, I had managed to deflect all possible matchmaking efforts; I didn't have an animal companion and intended to keep it that way until I got out West.
One eventful day, a black-and-white 3-year-old male cat who decided to chew on an electric cord ended up in our intensive care unit with lung congestion and some nasty burns on his lips. The rumor was that he had been "dumped" once his bill exceeded $1,000, even though his recovery was complete. Certain guardians (in this case, a term used loosely) elected to simply "disappear" and abandon their companions if the bill or nature of the animal's recovery did not meet their satisfaction. This was a rude awakening at the start of my internship, but by the time Whitney was left behind, I had already seen it happen many times to many wonderful animals.
One of my colleagues started to play animal "yenta" (a Yiddish phrase for matchmaker), parading me in front of his cage on a daily basis. I resisted for a while, but I finally acquiesced and schlepped a 12-pound cat up to my third-story walk-up apartment. The first thing he did upon seeing my place was to try and go out the window–not the best beginning to my experiment as a "cat person." I proceeded to spend the rest of the summer with the windows cracked open ever so slightly (there were no screens or AC!).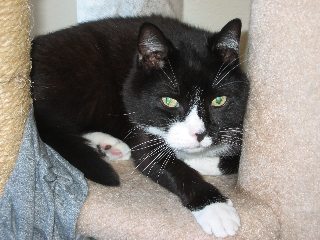 By the time we moved to California, the transition was easing for both of us. I recall making a rookie mistake in placing my precious record albums on the bottom shelf in the living room. I arrived home that evening to find Whit had used the album sleeves as a scratching post, rendering the names of the artists unintelligible. The next day, I got him (us?) a scratching post. Whitney and I moved together from Davis to Pasadena, to Ohio, and then finally to the Bay area, where we lived for the next 10 years.
After Whit's 15th birthday, I noted that he seemed to be losing weight. I took him in to my hospital for a checkup and confirmed a 1-pound drop in weight. Basic tests, including ultrasound, were all normal. I performed an endoscopy the next day, and biopsies confirmed low-grade intestinal cancer. Although I had seen this dozens of times before, my name had never appeared as the client on those other biopsy reports. After crying, I decided we would grit our teeth and pursue aggressive medications with an expected 12-month survival time.
Shortly after starting treatment, I spoke to a group of about 20 veterinarians and presented Whitney as the case example, showing off a recent picture to make the point that the subject of our discussion was my best friend. After providing the history and handing out copies of the normal testing, I asked if they would have advised Whitney's caretaker to pursue additional testing. No one raised a hand. I was stunned as I proceeded to hand out the results of the biopsies.
At the end of the discussion, one colleague approached me and said, "Look, I mean the cat is 15 years old–he's gonna be dead soon. I'm glad your cat is well, but I'm not going to recommend intervention." The lack of consideration that Whitney (and I) received from my colleagues hit me hard. This lecture subsequently inspired me to write articles and lead panel discussions regarding the role of veterinarians as animal advocates. As a result, I'm honored to be invited to speak to the veterinary students at U.C. Davis each year on the topic of animal advocacy.
Whitney and I were together more than 14 years and said goodbye when he was almost 18. Although I had lots of time to prepare, we're never ready for the end, and I was no exception. Coming home after work with no one to greet me or to look after left me as empty as I've ever felt in my life. I've shared my life with cats ever since. Whit's illness has made me more empathetic toward my clients as they go through similar experiences with their beloved cats. I was never a "cat person" … until I met Whitney.