Prime Inspirations: Triathlon for Animals Part 1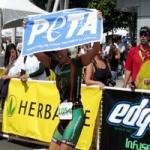 Mia Bissette is an inspiration and a personal hero of ours. By using an online personal fundraising page on Firstgiving and participating in a triathlon, she raised more than $4,000 for animals. We asked Mia to share her story with you. Here is part one of her story. Part two can be found here.
I've loved animals all my life, but it was only a few years ago that I went vegan after hearing about a chicken transport truck that a friend of mine was driving behind. I was horrified at her description of the condition of these animals. That's when I did my research and found out more about the suffering that animals are often forced to endure in today's world.
Since then, I've been fortunate to volunteer with the Texas Marine Mammal Stranding Network. I was part of a team that rescued displaced dolphins after Katrina and rescued and rehabilitated dolphins and whales off the shores of Texas. I spent time finding homes for unwanted dogs and cats with a Dallas rescue group, and I'm always looking for ways to do more to help and protect my fellow Earthlings, as I feel it's not only my passion but also my duty. There is little that I wouldn't do to help an animal, whether it be by direct rescue, education, or fundraising.
My younger years kept me focused on being a highly competitive athlete. It was what I loved, and it seemed to keep me fulfilled and happy. A few years ago, I began to vary my workout routine to spend less time running since it was responsible for pains in my feet. I biked a lot and began swimming, as I have always loved being in the water. After a while, I was able to incorporate some running back into my program and decided I'd like to try doing a small triathlon, which I finally accomplished in 2006.
In March of 2007, I had the good fortune to visit San Francisco for the first time in my life. What a magical place! I remember sitting at the Cliff House overlooking the brilliant and powerful Pacific Ocean, home to so many of the sea animals that I love. I began reminiscing about our trip over to Alcatraz that day with my partner, and it suddenly made me wonder whether there was an Alcatraz Triathlon. Lo and behold, there was! I thought that it would be a great accomplishment to complete a triathlon like that. So I looked it up and found out it was being held in June.
My mind began to race, and I thought: Team in Training raises money for leukemia by competing in marathons around the world. I can make a difference too! I need to raise money for animals by competing in triathlons! Then it also hit me: Alcatraz is an old jail! Dogs and cats in laboratories are in jail, and animals on factory farms are in jail, too, so I should create my own team and raise money for those animals. The goal: Help save the animals unjustly imprisoned around the world!
I decided that I would choose a different animal welfare/rescue group each year and raise money by doing a new triathlon. That first year, I chose Animal Acres, a farm animal sanctuary in Acton, California. I raised more than $1,000 in less than three weeks for Animal Acres by completing a Sprint Triathlon. In 2008, I learned about Ashley Paige, an incredible knit bikini designer and animal advocate to the core! My 2008 triathlon was for her organization, RuffHouzen Animal Rescue. I raised almost $3,000 for that group!
This year, going for a longer distance triathlon inspired me to choose PETA as the beneficiary of my fundraising since PETA is the largest animal rights organization in the world! It also was a great coincidence that I learned about Firstgiving, a Web site that allows people just like you and me to fundraise for the causes they are passionate about.
After setting up my own fundraising page, I was good to go. Firstgiving would send me an e-mail every time I received a donation. I cannot tell you the rush I got whenever I saw one of those e-mails in my in-box! I knew that each one of those donations was helping an animal in need. Sometimes the e-mails even made me head right out the door and run further! I am so thankful to all who supported me and donated to PETA. Now the only challenge I had left was the actual triathlon …
If you would like to learn more about how you can use Firstgiving to fundraise for animals, please e-mail Michelle Cehn ([email protected]) or call her at 510-763-7382, extension 27.