Prime Recipes: Summer Lemon Poppy Seed Cake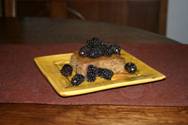 My Meyer lemon tree is bursting with fruit, and what better way to use those lemons than in a cake? I have a recipe to share for a lemon poppy-seed cake that is moist, tangy, and light-perfect for that summertime dessert. This recipe is from Extravaganza Cookbook,  with only a few revisions. If you don't have access to Meyer lemons, regular lemons will work just fine. Meyer lemons are less tart and much sweeter than other lemons, and the fruit inside is close to golden, as opposed to the pale yellow of your average lemon. They are perfect for baking, so if you have the chance to use them, please do.
Since maple syrup is called for in this recipe, please honor PETA's boycott of Canadian maple syrup and only use syrup that is made in the U.S. It's a small thing to do to help stop the slaughter of the seals for their fur in Canada. Here is a link to the Vermont Maple Syrup Makers' Association, where you will find many places to buy U.S.-made maple syrup online, in case you can't find any in your local stores.
Lemon Poppy Seed Cake
4 tsp. lemon zest
1/4 cup fresh lemon juice
1 1/4 cup soy milk (rice milk can be substituted)
3 cups spelt flour, sifted
2 tsp. baking soda
3/4 tsp. sea salt
2/3 cup safflower oil or canola oil
2 Tbsp. poppy seeds
1 1/2 cups American maple syrup
1/2 tsp. vanilla extract
Preheat the oven to 350°F. In a medium bowl, combine the lemon zest, lemon juice, and soy milk. In a large bowl, combine the flour, baking soda, and sea salt.
In a separate bowl, combine the oil, poppy seeds, maple syrup, and vanilla and stir in the lemon and soy milk mixture. Mix well until combined.
Pour the wet ingredients into the dry ingredients and mix together until your batter is very smooth. Pour the batter into an oiled 9-inch-by-13-inch baking pan. Bake at 350°F for 30 to 35 minutes. Insert a toothpick into the center of the cake; it will come out dry if the cake is done. Allow the cake to cool for 30 minutes before serving.
For the Lemon Glaze Frosting:
3-4 Tbsp. fresh lemon juice
1 cup powdered sugar, sifted into a small bowl
Mix the lemon juice into the sugar until the sugar is dissolved. This is a thin glaze, not a thick frosting. Drizzle over each piece of cake.
Not in the mood for cake? Check out this great recipe for lemon poppy seed cookies over at VegCooking.com.
What are some of your favorite summertime desserts?