PETA Prime Reader Recipe: Depression Cake!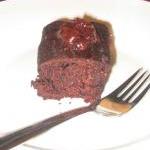 According to the tale, "Depression Cake" was born out of necessity. Ethel, a housewife in the midst of the Great Depression, found herself without the means to purchase the eggs, milk, and butter that she wanted to use to make a cake for the Fourth of July. With a bit of ingenuity, she crafted a masterpiece that her family raved about. Nearly 80 years later, many of us are seeking ways to save a penny while still enjoying delicious, cruelty-free, and environmentally conscious foods.
Once I heard about Depression Cake, I knew I had to try it. Luckily, there are many recipes for versions of the cake available on the Internet. I settled on a chocolate one that called for standard items readily available in my kitchen.
Ethel didn't let me down! I loved that the entire cake could be made in just one pan, and the batter formed a gorgeous pudding that I enjoyed licking off my mixing fork. Best of all, the finished cake was delicious. I couldn't believe how moist it was! Friends raved about the cake's texture and subtle sweetness. Depression Cake made a perfect dessert, and the leftovers were great for breakfast with a touch of raspberry jam.
To make your own Depression Cake, follow this recipe:
3 cups flour
2 cups white sugar
1 tsp. salt
2 tsp. baking soda
1/2 cup unsweetened cocoa powder
3/4 cup vegetable oil
2 Tbsp. distilled white vinegar
2 tsp. vanilla extract
2 cups cold water
Mix the flour, sugar, salt, baking soda, and cocoa together in a 9-inch-by-13-inch ungreased cake pan.
Make 3 ditches in the flour mixture, then pour the oil into one ditch, the vinegar into a second, and the vanilla into a third. Pour cold water over all of them, and stir very well with a fork.
Bake at 350°F for about 40 minutes, or until an inserted toothpick comes out clean.
Makes 1 large 9-inch-by-13-inch cake
Enjoy!
Amber McDonald is a PETA Prime reader; a Washington, D.C., lawyer; and a writer for DC-area vegan blogs. She is also writing a vegan cookbook.