Earlier, we whet your appetite with an interview with Tal Ronnen, the chef at Crossroads—an upscale all-vegan Los Angeles eatery that's earning rave reviews from herbivores and carnivores alike—and the author of a brand-new cookbook, also called Crossroads.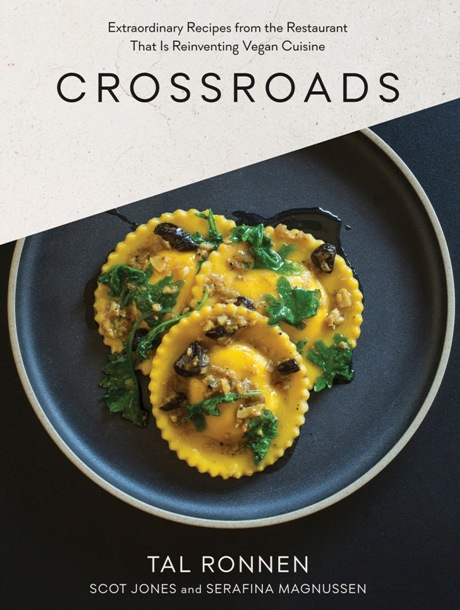 Now, we're making things really interesting by telling you about a chance to win your very own copy of this glorious cookbook, which features recipes for some of the restaurant's most popular Mediterranean dishes, including Warm Kale and Artichoke Dip, Summer Minestrone with Basil Pesto, Hearts of Palm Calamari, and Grilled Garden Vegetable Lasagna. The cookbook is also loaded with handy tips and shortcuts—such as how to "veganize" pesto, Parmesan cheese, and béarnaise sauce—and it introduces you to cool new ingredients like smoked sea salt and black garlic. It also takes the guesswork out of making your own pasta with a crash course in Pasta 101.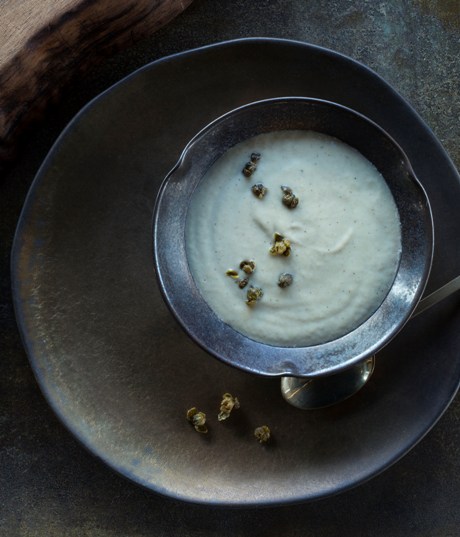 To enter the contest, which is being held by Gardein, for a chance to win two autographed copies of the Crossroads cookbook as well as a trip to Los Angeles for dinner at Crossroads restaurant and a year's supply of Gardein products, visit the company's Facebook page. If you don't win, don't despair—the cookbook is also available for purchase from the PETA Catalog.
In the meantime, here's a recipe from Crossroads to give you an idea of the treat you're in for:
Butternut Squash–Puree Flatbread with Mustard Greens and Fried Brussels Sprout Leaves
Serves 8; Makes 4 flatbreads
I find butternut squash to be a little sweet, so adding spice with cayenne or black pepper—and in this case, a peppery mustard green—helps to balance the sweetness. I add the crispy fried Brussels sprouts for crunch.
1 butternut squash (about 2 pounds), halved lengthwise and seeds and membranes removed
Extra-virgin olive oil
1 sweet onion, such as Vidalia, halved lengthwise and thinly sliced
4 tablespoons (1/2 stick) Earth Balance butter stick
4 garlic cloves, coarsely chopped
1 shallot, coarsely chopped
2 fresh thyme sprigs, leaves stripped from the stems
1/4 cup sweet Marsala
1/4 cup sweet Madeira
1/4 cup Vegetable Stock (recipe follows) or store-bought stock
Kosher salt and freshly ground black pepper
1/2 pound Brussels sprouts (about 15)
Expeller-pressed canola oil, for deep frying
1/4 teaspoon unrefined cane sugar
Unbleached all-purpose flour, for dusting
Four 6-ounce balls Flatbread Dough (recipe follows)
Cornmeal, for dusting
1/2 cup Kite Hill almond ricotta
2 cups baby mustard greens
Juice of 1 lemon
1/4 cup toasted pumpkin seeds (pepitas)
To prepare the squash: Preheat the oven to 450°F.
Put the squash cut side down in a 9-by-13-inch baking dish. Pour 1/2 inch of water into the dish around the squash halves to create steam as the squash cooks. Roast for about 1 hour, until the squash is golden and is tender when pierced with a knife. Set aside to cool. (The squash can be prepared a couple of hours in advance, covered, and held at room temperature.)
Meanwhile, prepare the caramelized onions: Put a large sauté pan over medium-high heat and coat with 2 tablespoons olive oil. Add the onions and cook, stirring, until soft and light brown, about 10 minutes. Set aside.
Put a medium saucepan over medium heat. Add the butter substitute, garlic, shallot, and thyme and sauté until the shallot and garlic are soft, about 3 minutes. Pour in the Marsala, Madeira, and stock and simmer until the liquid is reduced by half, about 5 minutes. Remove from the heat.
When the squash is cool enough to handle, scoop the flesh out with a spoon and put it in the bowl of a food processor. With the motor running, carefully pour in the wine sauce a little at a time and puree until smooth. Season with salt and pepper.
To prepare the Brussels sprouts: Cut off the stem ends of the sprouts. Peel off the outer leaves of each sprout until you get to the hard heart and can't peel off any more; discard the hearts. You should have about 3 cups leaves. Pat the leaves really dry with paper towels; you don't want them to spatter in the oil.
Pour 1 inch of canola oil into a wide pot and set over medium-high heat. When the oil is hot, add the Brussels sprout leaves, in batches, using the lid of the pot to shield and protect your hands from popping oil, and fry, stirring constantly to keep the leaves from burning, until crispy and brown, about 30 seconds. Use a long pair of tongs or a slotted spoon to remove the sprouts from the hot oil, transfer to a paper towel–lined plate to drain, and season with the sugar and salt and pepper.
To prepare the flatbread: At least 20 minutes before baking, put a pizza stone or a baking sheet on the middle oven rack and preheat the oven to 450°F.
On a lightly floured surface, with a floured rolling pin, roll one ball of dough into an oval about 8 inches long, 6 inches wide, and 1/4 inch thick. With a docker or a fork, prick the surface of the flatbread to prevent air bubbles from forming during baking. Dust a pizza paddle with cornmeal and slide it under the dough. (If you don't have a paddle, flip over a baking sheet and use it.) Lightly brush the dough with olive oil to give a sheen to the crust.
Smear 1/2 cup of the butternut squash puree over the dough, leaving a 1/2-inch border all around. Distribute one-quarter of the almond ricotta evenly over the puree. Repeat with the remaining dough, puree, and ricotta.
Working in batches, slide the prepared flatbreads onto the hot pizza stone or pan and bake for 10 to 15 minutes, until the crust is nicely browned.
While the flatbreads are baking, toss the mustard greens with 1 tablespoon olive oil, the lemon juice, and salt and pepper to taste in a mixing bowl.
<li
Using tongs, pull the flatbreads onto a cutting board. Scatter the caramelized onions, mustard greens, fried Brussels sprout leaves, and pumpkin seeds on top. Cut the flatbreads into wedges with a sharp knife or pizza cutter. Serve warm.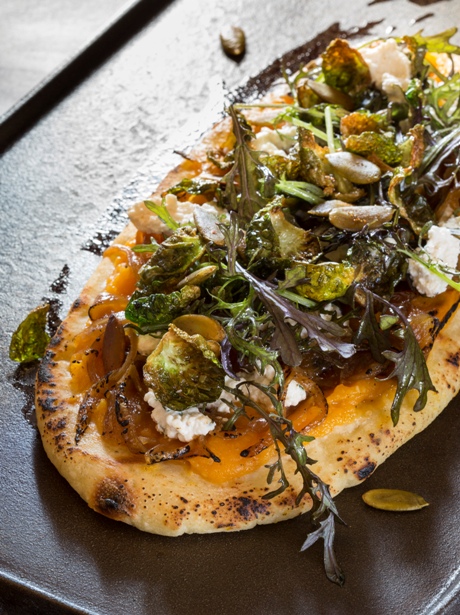 Vegetable Stock
Makes about 1 gallon
A flavorful stock is one of the fundamentals of cooking. A good stock should enhance, rather than overwhelm, whatever sauce or dish you make with it. Every layer of flavor creates the sum of the parts, so the goal with making stock is versatility. This vegetable stock has a fairly neutral flavor that works in all kinds of preparations. The recipe couldn't be easier—chop up some vegetables, cover with water, and simmer—you're done.
The majority of commercial brands of vegetable stock are too dark in color and overly salty and/or sweet. If you're pressed for time and must use a prepared stock, More Than Gourmet is our favorite. It has no artificial anything and contains no MSG or excess sodium.
2 celery stalks, quartered
2 fennel bulbs, coarsely chopped
2 leeks, trimmed, halved lengthwise, and washed
2 carrots, halved
1 onion, halved
4 garlic cloves, smashed
2 bay leaves
2 teaspoons whole black peppercorns
12 fresh flat-leaf parsley sprigs
6 fresh thyme sprigs
1 teaspoon kosher salt
About 1 gallon cold filtered water
Combine the vegetables, bay leaves, peppercorns, herb sprigs, and salt in a large stockpot and add enough cold filtered water to cover. Slowly bring to a boil over medium heat, then reduce the heat to low and gently simmer, uncovered, for 45 minutes. Turn off the heat and let the stock steep and settle for 10 minutes.
Strain the stock through a fine-mesh sieve into another pot; discard the solids. Place the pot in a sink full of ice water and stir to cool the stock down quickly. The stock can be covered and refrigerated for up to 1 week or frozen for up to 1 month.
Flatbread Dough
Makes 1½ pounds
This leavened dough, which is similar to pizza dough, can be made in less than an hour with basic pantry ingredients.
While you don't need a stand mixer with a dough hook to prepare this dough, it certainly speeds things up. If you choose to go the route of making the dough entirely by hand, the kneading process will take twice as long—but you'll also get a good workout. Use flour judiciously to keep the dough from sticking to your hands and the work surface as you knead.
1/2 teaspoon active dry yeast
1 cup plus 2 tablespoons warm filtered water
1 teaspoon unrefined cane sugar
2 3/4 cups bread flour, plus more for dusting
2 teaspoons extra-virgin olive oil, plus more for the bowl
1 teaspoon kosher salt
1 teaspoon freshly ground black pepper
Nonstick cooking spray if storing the dough
In the bowl of a stand mixer fitted with the dough hook, combine the yeast, water, and sugar, stirring gently to dissolve the yeast and sugar. Let the mixture stand until the yeast comes alive and starts to foam, 5 to 10 minutes.
Turn the mixer to low speed and slowly add the flour in 3 batches. When the dough starts to come together, increase the speed to medium and add the oil, salt, and pepper. Knead the dough in the mixer, stopping the machine periodically to scrape the dough off the hook, until the dough has come together and is no longer sticky, about 10 minutes.
Turn the dough out onto a lightly floured work surface and knead for a few minutes with floured hands: To knead, fold the dough over itself and push it out, not down, with the heel of your hand. Then rotate it a quarter turn and repeat. Continue until you can stretch the dough without it tearing; when you press on the dough with your fingertips, it should spring back quickly.
Form the dough into a round and place in a large oiled bowl. Cover the bowl with plastic wrap or a damp towel and let rise in a warm place until doubled in size, about 30 minutes. Test the dough by pressing two fingers into it: if the indents remain, the dough is ready.
Divide the dough into four 6-ounce portions and shape into balls. If you are not going to bake all 4 balls, tightly wrap each ball of dough in a few layers of plastic wrap (lightly coat the first layer with nonstick cooking spray). The dough will keep in the refrigerator for up to 5 days or can be frozen for up to 1 month. Defrost the dough overnight in the refrigerator before rolling out and baking.
Excerpted from Crossroads by Tal Ronnen, with Scot Jones (Artisan Books). Copyright (c) 2015. Photographs by Lisa Romerein.