Taryn Rasgon, the owner of vegan lifestyle brand Vegetaryn, knows that one of the easiest and most effective ways to promote a kind lifestyle is to wear your heart on your sleeve. That's why she's created a funny and pun-filled collection of tees, tanks, sweatshirts, and totes with pro-vegan messages like "Lettuce Eat Plants" and "Save the Cocks & Hens."
Our favorite, though, has to be the "Not Milk" tee, for its simple and clever reminder that there are plenty of tasty beverages to pour over your cereal that don't involve cruelty to cows. When you order your "Not Milk" tee between July 1 and September 1, 2016, Taryn will donate 10 percent of the proceeds to PETA—and to sweeten the deal, you'll also get 10 percent off when you use the code "PETA" at checkout!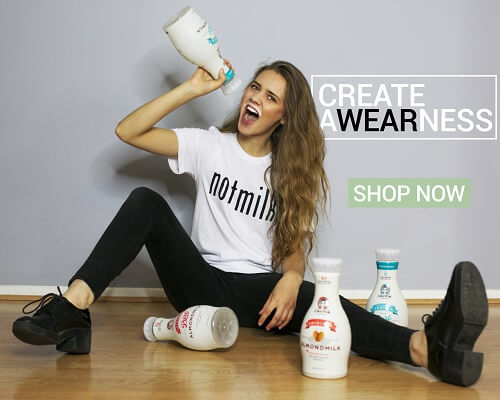 Taryn's journey from steadily eating cheeseburgers and fries to becoming a vegan maven began when she was a student at Arizona State University. While studying abroad in Barcelona, Taryn was repulsed by the animal carcasses that hung from the ceilings in many restaurants and shops. "[I]t grossed me out," Taryn said, "especially when a pig's thigh was hanging right above my head." So during her time overseas, she avoided meat. When she returned home and resumed meat-heavy eating, she immediately started feeling sick. Eventually, she transitioned to eating whole, plant-based foods and was pleasantly surprised when her stomach aches disappeared, along with her eczema and asthma. Her acne also cleared up, and she lost 20 pounds! After graduating, Taryn earned her certificate in plant-based nutrition from Cornell University.
"Now … I am not just eating for myself," Taryn says. "I know I am helping animals and the environment too. I feel as though every time I sit down at the table, my choices have a greater impact on the world."
Help create "aWEARness" (as Taryn calls it) of all the benefits of going vegan: Get your "Not Milk" tee today!