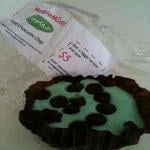 Summer is definitely here, and what better way to start the new season than by giving away free vegan ice cream? This summer, a group of animal rights advocates in the San Francisco Bay Area has planned a series of three ice cream giveaways at different locations in that region. San Francisco ice cream parlor MaggieMudd carries 72 delicious flavors of vegan soy- and coconut-based ice creams—from fresh banana nut to mint cookie swirl—and the store has donated 500 samples for each of the ice cream giveaways. We have been busy passing out the samples—along with PETA's vegetarian/vegan starter kits and lists of local vegetarian restaurants and resources—at farmers markets, in front of supermarkets, and on crowded streets.
This type of easy summer outreach is the perfect way to spread compassion for animals and showcase cruelty-free alternatives that many people may not know about. There are few things more effective than being out in public, having face-to-face conversations with people who have no idea about how cows on dairy factory farms are raised and treated, and handing people tools (such as frosty treats) that may help inspire them to change their own lifestyle in order to help animals. Giving people the power and knowledge to buy products that they can trust is a simple and effective way to be a voice for animals who are exploited and abused for food.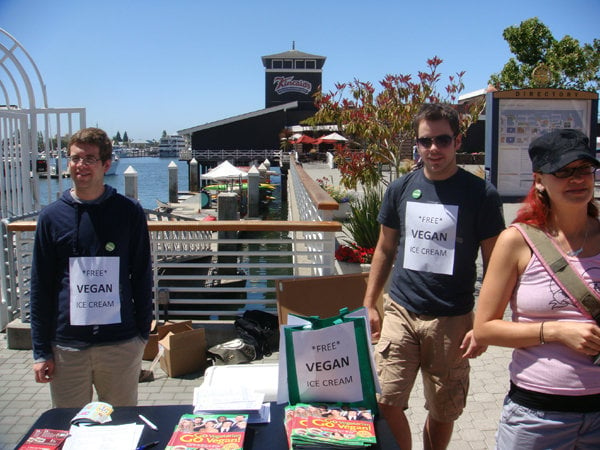 In addition to vegan ice cream giveaways, other great options for introducing compassionate food choices to the public are veggie hot dog giveaways, vegan "meat" tastings, and vegan bake sales. Many vegan food companies are willing to donate products for such events, or you might be able to partner with a local natural grocery—just be sure to plan in advance!
The plight of animals and the term "vegan" are in the spotlight now more than ever before, so we must all seize this opportunity and be the most effective spokespeople that we can for animals who are suffering on factory farms around the world.
With more and more exposés on the suffering of factory-farmed animals, now is the time to prove that we don't need to use animals in order to make treats such as ice cream—especially when there are many tasty, cruelty-free alternatives available.
This post was written by Shani Campbell and Michelle Cehn. Shani is a Bay Area native and President of East Bay Animal Advocates. She also works with children who have autism and part time with PETA. Michelle is PETA's Community Fundraising Program Manager. She is also the founder and past president of the Case Animal Rights & Ethics Society in Cleveland, Ohio. She loves to spend her weekends doing community veg outreach and encouraging animal lovers to get active and involved!