On Saturday, March 18, 500 runners will lace up to take on the epic Chuckanut 50K ultramarathon, a challenging 31-mile race through forest trails in the Pacific Northwest that includes a 5,000-foot climb up the Chuckanut Mountain Ridge. Among the runners will be PETA Foundation team member Emily Thoms. She'll be running with the PETA Pack to raise funds for animals around the world, including those affected by crises in Syria, Turkey, and Ukraine.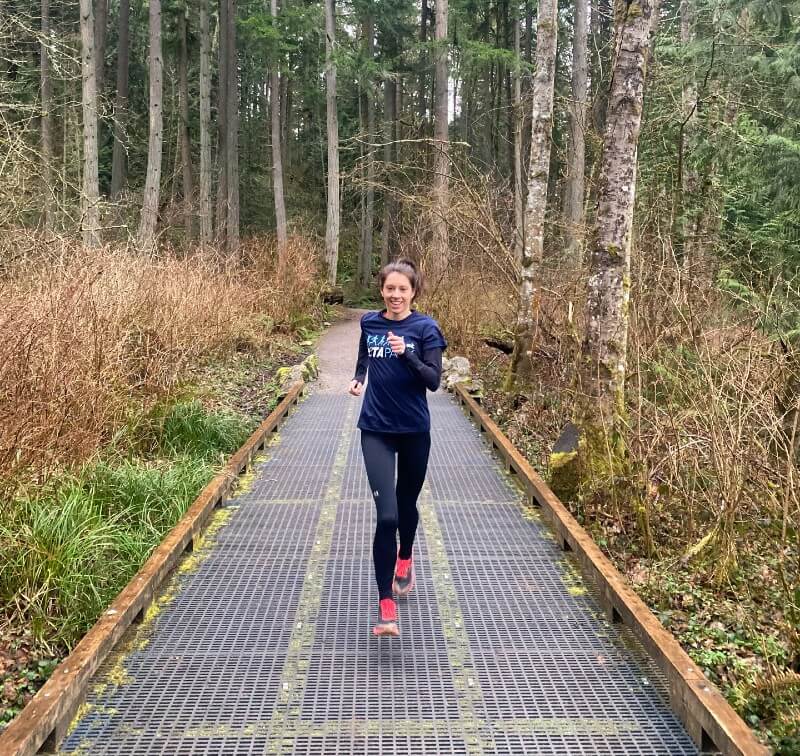 We asked Emily to tell us more about what sparked her passion for animal rights, why she chose to fundraise for animals with the PETA Pack, and how she's training for this grueling race. You can help cheer her on by donating any amount and leaving some words of encouragement on her PETA Pack page.
What inspired your passion for animal rights?
I've been passionate about animals from a young age, with a keen admiration for cats in particular. I woke up to the cruelty inherent in farming animals for food when I was in high school, and then I came across a PETA undercover investigation into a pig factory farm. I stopped eating animals from that moment forward and eventually made the full transition to being vegan. PETA opened my eyes to the many ways in which animals suffer needlessly, and I have made it my purpose to speak up about this injustice. I'm proud to be a member of the PETA Pack, combining my love for both running and animals into one mission.
Why did you choose to support the Global Compassion Fund through your race?
I'm fundraising for the Global Compassion Fund to help animals in need around the world, including supporting rescue teams in Syria and Turkey who are working to save animals' lives. The recent earthquakes in Syria and Turkey were devastating not only to humans but also to animals, leaving many of them traumatized, injured, and having to fend for themselves. I chose to fundraise for this cause because animals need urgent help—they cannot wait.
How did you get into running?
My love of running began with my parents, who are both lifelong runners. I saw the multitude of ways in which running enhanced their lives and their relationship, ultimately bringing them closer as partners and teammates. I followed in their footsteps, literally. My mom, who is now in her 60s, is still finding great joy and fulfillment through running, which is a beautiful way to connect with your most vulnerable self, set goals, and strengthen your connection to the great outdoors. I hope more people will experience the many benefits of running!
How did you train for the upcoming 50K ultramarathon?
To prepare for my upcoming 50K, I followed a 13-week training plan, which is actually quite short compared to most plans. However, I had just spent the previous few months training for a marathon, which I was unable to complete due to an injury that occurred near the end of my training season. A word of advice to others: Listen to your body, and increase your weekly mileage gradually.
How do you keep yourself fueled for your long training runs?
Fortunately, there are plenty of options! Knowing how to fuel properly is critical for avoiding "bonking" when the going gets tough—including on long runs, which are essential to training for a long-distance race. On long run days, I start my morning with a whole grain bagel topped with nut butter and banana slices. I always have an electrolyte drink to ensure that I stay hydrated. Lately, I've been enjoying Skratch Labs' fruit punch flavored drink mix and Clif energy shots to keep me going on longer run days. My partner also makes delicious cookies that are great fuel before, during, and following my long trail runs. His cookies are the perfect concoction of oats, nuts, dark chocolate, maple syrup, peanut butter, banana, and flaxseed.
What area of PETA's work are you most passionate about?
I'm passionate about so many different areas of PETA's work. The reports that I read from our Global Compassion Fund are a regular reminder that animals are in need around the world and that PETA is finding meaningful ways to serve them. I'm also very passionate about following a cruelty-free lifestyle, and I take every opportunity to encourage others to do the same. It's so much easier than most people realize!
Living in the Pacific Northwest has also brought my attention to one PETA campaign, in particular: the call to release Tokitae (Lolita), the orca languishing at the Miami Seaquarium, to a seaside sanctuary in her home waters off the coast of Washington. Tokitae was abducted from her ocean home more than 50 years ago, taken from her family, and put in the smallest orca tank in the world. She still suffers there today, completely isolated. On a recent trip to the San Juan Islands in Washington while I was on a coastline hike with friends, I witnessed a pod of orcas swimming. It was breathtaking! I wondered if in that pod was Tokitae's surviving mother, who is rumored to still be alive and in her 90s. How beautiful that reunion would be. On behalf of Tokitae and all animals, I hope others will join me in vowing never to visit an amusement park or any venue that exploits animals in the name of entertainment.
What advice would you give to other people who are considering taking on a physical challenge with the PETA Pack?
Two words—do it! Running, walking, cycling, or taking on any physical challenge to create a better world for animals will motivate you to accomplish new goals you never thought possible. In today's world, animals continue to be exploited in the name of science, food, fashion, and entertainment, but it doesn't have to be that way. By joining the PETA Pack, you can raise awareness of issues that matter while joining a community of likeminded and supportive people who will help you reach your goal. Do it for the animals!
*****
Please consider making a donation to support Emily's PETA Pack fundraiser. Your gift of any size will make a difference!
Feeling Inspired to Take On a Physical Challenge, Too? Join the PETA Pack!