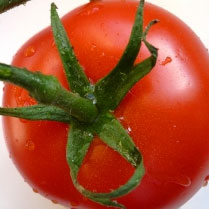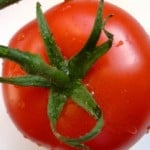 Here's some good health news for guys and those who love them: Eating tomatoes can help prevent prostate cancer, according to a Wall Street Journal article. New research shows that lycopene, a nutrient found largely in tomatoes and tomato sauce, has anti-cancer and antioxidant effects on human prostate cells—as if anyone needed another excuse to eat vegan pizza, manicotti, lasagna, and tempeh, lettuce, and tomato sandwiches!
Research also suggests that lycopene may prevent bone loss, so you may want to enjoy some watermelon, red grapefruit, or papaya, too, since lycopene is also found in these brightly hued fruits.
We all know that meat, eggs, and dairy products can cause cancer, osteoporosis, and other health problems. So stay healthy by eating fruits, veggies, and other vegan foods. Here are some tasty vegan recipes for those of you who have been salivating ever since I said the word "pizza." Bon appétit!