Like many of my fellow animal lovers, I arrived on the doorstep of advocacy because of various life experiences. Some of them, like the feelings of love and connection that I've shared with my animal companions, are joyful. Other memories are not quite so tender. There is one that, although painful, has not left me sad. Quite the opposite—today, I feel more empowered because of it.
As a Child, I Struggled With Asthma
Take a moment to plug your nose while pretending to inhale through a straw. That tightness in your chest is what it feels like to breathe when you have asthma.
One day, when I was barely able to catch my breath, I called my mom at work. She raced home and took me to the hospital. After several days, I was released. As we drove away, my mom told me that we were going to Arizona. "Who is going to take care of Orange and Bandit?" I asked my mom, referring to my two dogs, a Labrador and a basenji. Silence was her response.
While in Phoenix …
The heat helped my lungs, but any questions about my dogs were ignored. Finally, my mom confessed that the doctor thought my asthma was caused by dog hair, so she had taken Orange and Bandit to an animal shelter—and left them there. Have you ever felt like the ground has dropped out from beneath you? Hearing that I would never see my dogs again left me stunned. I fell to my knees and screamed.
When We Got Home …
I plotted to get my dogs out of the shelter. I imagined sneaking out at night, walking the 20 miles, and freeing Orange and Bandit. But by morning, my nerve was gone, and I was trapped in my helplessness, unable do anything for my beloved dogs. I must have looked miserable, because a week later, my father slammed his fist on the dinner table and said, "I can't take it anymore! I can't see her so sad. I'm getting the dogs back." With his proclamation, the world righted itself again, and my heart was full of hope.
The next day, my father came home with Bandit but not Orange. He said that Orange had gone to live with a family on a ranch. Even as a kid, I sensed that his story was a pretense, but the alternative was more than I could bear. A happy life for Orange and my father's promise to get me another dog stopped my heart from hemorrhaging, but the wound has taken a lifetime to heal.
10 Years Later …
During one of my college breaks, my mother informed me that she was no longer going to take care of my shepherd, Iris, and that the following day, she would be taking her to the shelter. The memory of losing Orange flooded back to me. "You aren't getting rid of my dog," I said. "I'm taking her with me." I was surprised by my words. My mother wasn't someone you spoke back to. She told me all the reasons why I couldn't do this—mostly, that no one takes a dog to college. Fortunately, I was my mother's daughter—headstrong, stubborn, and determined.
No longer a helpless child, I packed Iris into my car and drove away, determined that from now on, I would protect and keep safe every animal in my care.
As advocates, it's good to remember our whys—our stories about why we do what we do. The memories may be painful, but in meeting the pain with truth and forgiving both others and ourselves, we're often rewarded with insight, wisdom, and strength. These moments of transformation can help us become better advocates for our animal friends on this worthy journey.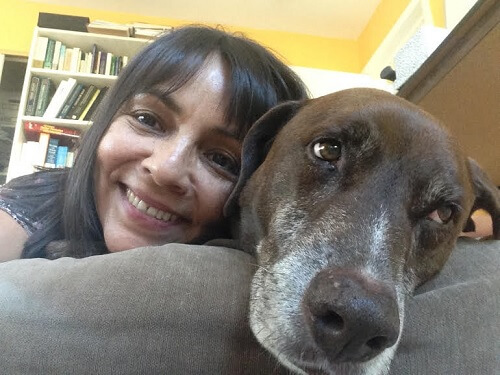 Carlyn Montes De Oca won PETA's 2011 Sexiest Vegan Over 50 contest. She's an acupuncturist, a plant-based nutritional consultant, and the founder of The Animal – Human Health Connection. Her book, Dog as My Doctor, Cat as My Nurse: An Animal Lover's Guide to a Healthy, Happy & Extraordinary Life, will be published in late spring 2017. Join Carlyn on Facebook and Twitter.