PETA's eye-catching demonstrations, groundbreaking investigative work, and life-changing victories for animals are always grabbing headlines around the world. See a few of our most widely covered campaigns for animals in December!
PETA to President Biden: 'Don't Appoint Another NIH Dinosaur'
Following news of the resignation of Francis Collins, PETA's "dinosaurs" tailed President Joe Biden as far away as Scotland to help persuade him to appoint a forward-thinking director for the National Institutes of Health (NIH), rather than another "fossil" who wastes taxpayer dollars on crude animal experiments. Those dinos had cause to celebrate when the president appointed Dr. Lawrence A. Tabak—who supports animal-free research methods—as the agency's interim director.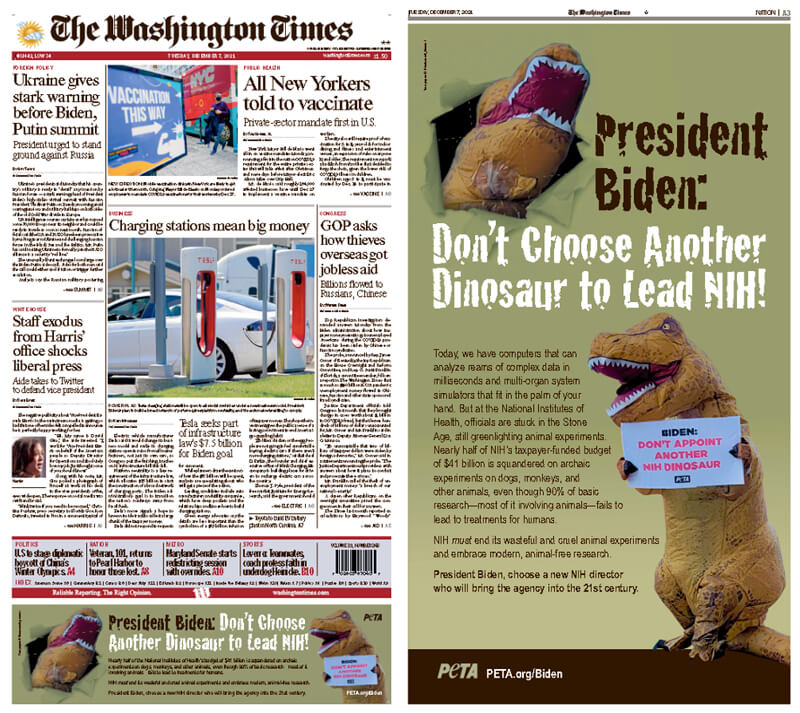 NIH Investigates the University of Washington's Arizona Breeding Facility  
After a months-long investigation by The Arizona Republic unearthed a host of ethical and scientific failures associated with the University of Washington, NIH opened an investigation into the school's secretive breeding compound in Arizona, which is near a toxic waste dump and holds several macaques suffering from Valley fever.
Billie Eilish Named PETA's 2021 Person of the Year
For pushing the fashion world to dump fur and embrace going vegan—including by wearing an Oscar de la Renta gown to the Met Gala only if the brand agreed to ban fur, which it did!—Billie Eilish was named PETA's Person of the Year and became the youngest person ever to receive the title.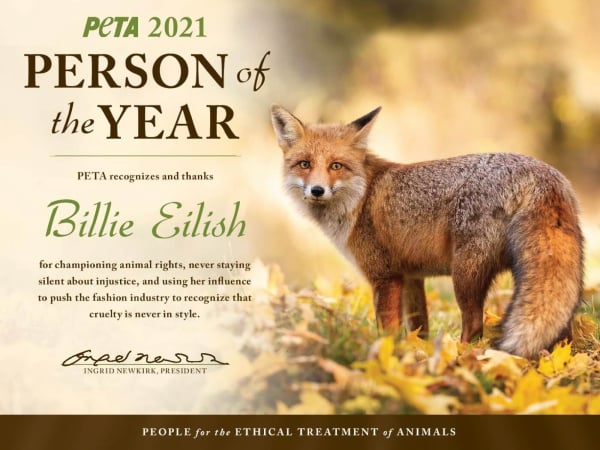 Elle Ends Promotions of Fur in Magazines Around the World
PETA's years of protesting furriers and urging the public to shun fur paid off in a big way when influential fashion magazine Elle banned fur from its pages worldwide.
PETA Asia Exposes Exotic-Skins Suppliers for LVMH and Gucci
Two PETA Asia investigations revealed horrific cruelty inside Indonesian slaughterhouses with ties to luxury fashion houses LVMH and Gucci. Pythons were repeatedly struck on the head with a hammer, and live lizards were tossed around, submerged in water, and violently struck on the head with a machete. Both exposés received international media coverage.
PETA India Campaign Leads to Rehabilitation of 'India's Skinniest Elephant'
Following an intensive three-week campaign by PETA India, officials have ordered the permanent rehabilitation of Lakshmi, known as "India's skinniest elephant," at the Wildlife SOS Elephant Conservation and Care Centre in Mathura. She is now receiving fresh food, clean water, appropriate shelter, and the expert veterinary care that she desperately needed.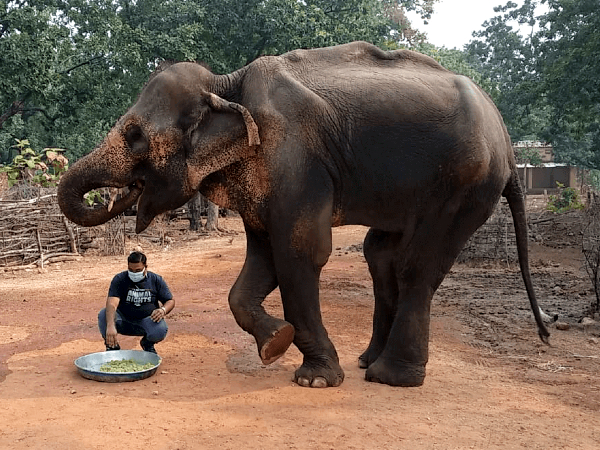 PETA Demands Action After Death of Medina Spirit
PETA's calling for a thorough investigation into the sudden death of Bob Baffert–trained Kentucky Derby winner Medina Spirit, who tested positive for illegal drugs after winning the race in May. We're also calling on the California Horse Racing Board to issue what amounts to a restraining order, banning Baffert from having unsupervised contact with the surviving horses in his "care" and from making any veterinary decisions in their behalf.
Lion Cubs Rescued From Tiger King Villain
When PETA rescued Nala from Jeff Lowe's now-defunct roadside zoo, the young lion was severely underweight and so lame that she could only take a few steps without collapsing. Now, she and her siblings—fellow PETA rescues Amelia and Leo—have the care and space that they need to flourish.