PETA President Ingrid Newkirk was browsing a list of animal laboratories registered with the U.S. Department of Agriculture when she discovered something horrifying: A monkey lab called the Institute for Behavioral Research was operating just down the road from PETA's Maryland headquarters.
While the small building in Silver Spring appeared to be an ordinary warehouse, PETA would soon reveal that it was a warehouse of horrors. Sixteen macaques who had been stolen from their homes in the Philippines and one rhesus monkey were trapped inside individual cramped cages with rusted wires amid piles of their own waste, and they were being subjected to the most ghastly experiments imaginable.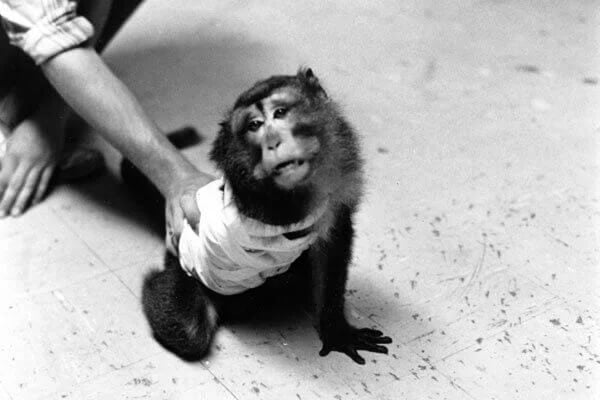 Can you imagine police cars pulling into a parking lot to rescue monkeys from an experimenter? Watch the video below to join Ingrid as she revisits the site and tells the story of the case that put PETA and animal rights on the map—and landed an animal experimenter in court.
PETA President Ingrid Newkirk Visits Site of Silver Spring Monkeys' Case from Official PETA on Vimeo.
Despite having no veterinary or medical training, psychologist Edward Taub subjected the monkeys to surgeries in which their spinal nerves were severed, rendering one or more of their arms useless. Taub then electroshocked the monkeys to force them to try to pick up food with their injured arms.
Then, 40 years ago this week, something phenomenal and historic happened: PETA took all the evidence (including photographs) and expert opinions to the Montgomery County police, who executed the very first search warrant against a laboratory using animals in U.S. history.
All 17 monkeys were removed from that dreadful building and saw the sky, felt sunshine, and breathed fresh air for the first time in many years.
The psychologist was charged and convicted of cruelty to animals—another first!—and although his conviction was later overturned on a technicality, he never touched animals again in his life. The case for the custody of the monkeys went all the way to the U.S. Supreme Court, where PETA won again.
It was a pivotal moment for the monkeys, for freedom, and for the history of animal rights. When people heard about it on the news and saw it on the front page of The Washington Post, they thought, "There is something that can be done."
Since this historic case, PETA and our entities around the world—with the help of our supporters—have stopped many more animal experiments and even shut down other laboratories. But as you well know, there is much more work to be done. Please join us in urging Congress to support the Research Modernization Deal, a plan we've developed that marks a clear path to ending the use of animals in experiments.
Animal experimentation is not modern, it's not sane, and it's not kind. Let's move forward together until all sentient animals are treated like the wonderful beings they are!
---
Read more riveting rescue stories in PETA President Ingrid Newkirk's book Free the Animals. Pre-order your copy of the 30th Anniversary Edition today!
'Free the Animals': 30th Anniversary Edition