Please enjoy this article from the latest issue of our magazine, PETA Global. To begin your subscription, become a PETA member today!
Become a PETA Member!
---
The little donkey foal was near death. He'd been stabbed in the head, and his wounds were badly infected. Wobbly, lethargic, thin, and severely dehydrated, he wasn't long for this cruel world. But then he found himself whisked into the PETA-supported clinic outside Petra, Jordan, and loaded up with painkillers and antibiotics by the skilled veterinary surgeon there. His wounds were cleaned and sutured, and he was given food, water, and rest. This treatment is the only reason he survived. He experienced kindness, too – likely for the first time in his life.
PETA at Petra: Healing Deep Wounds
PETA-supported clinic is all that protects the donkeys who toil at Petra from pain and death. When the tourist sites are open, the animals lug humans up and down hundreds of crumbling stone steps, under the blazing desert sun. Abuse is routine and rampant there: PETA Asia investigations have shown that both children and adults beat these cautious, inquisitive animals, who are often on the verge of collapsing from exhaustion. Bloodstained chains and ropes dig into the donkeys' faces, and they're tied up so tightly when not being used that they sustain hobble wounds on their legs to the point of lameness.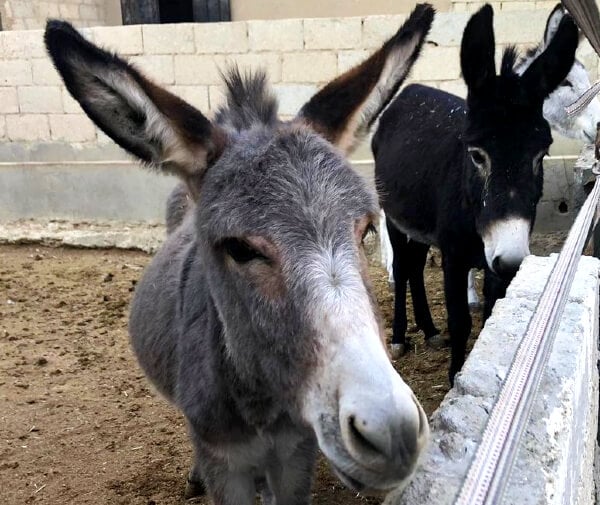 The clinic provides free services for about 30 animals a day – treating every condition imaginable. It handles emergencies, too: When a call came in the middle of the night, as they often do, about a donkey suffering from colic – which can quickly kill if left untreated – Petra's expert veterinarian rushed to the scene and pumped out the animal's stomach. By the next day, the donkey had recovered! Sadly, others do not make it – as when juveniles pushed a pregnant donkey off a cliff, killing her.
Petra is a UNESCO World Heritage site – a place of "outstanding universal value to humanity," but PETA Asia is calling on UNESCO to help end the systemic abuse of animals there. However, despite vague assurances that it will "improve animal welfare," the organization has taken no meaningful action to change the situation for the animals who toil and die at the site. PETA entities continue to urge authorities to ban donkey rides at Petra, pointing out that eco-friendly electric vehicles are 100% humane and safer than using sentient beings as tourist taxis – a recipe for abuse.
Santorini's 'Stairway to Hell'
Donkeys and mules are also exploited on the Greek island of Santorini, where they're forced to carry tourists up more than 500 steep steps to the old town of Firá. A PETA Germany eyewitness investigation revealed that the animals are frequently tied up without water or shade during the sweltering summers, and many suffer from painful open sores, raw skin, and bloody injuries caused by uncomfortable makeshift saddles and harnesses. Even at night, many are denied rest, forced to haul heavy bags of garbage up the hill.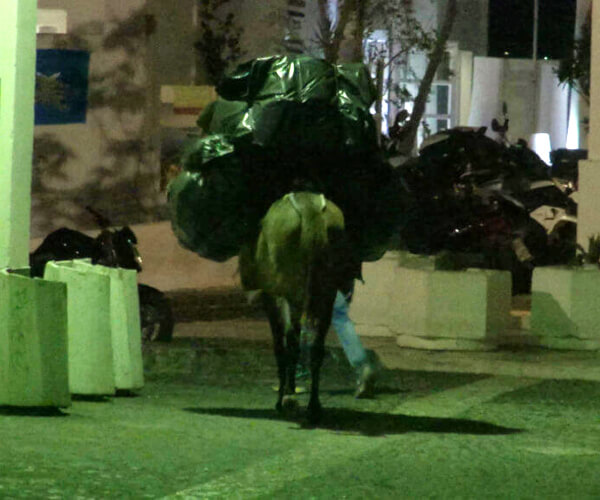 PETA Germany's investigation prompted Greece to pass new animal protection laws – but the donkey handlers don't follow them, and no one enforces them. PETA's entities have launched a determined campaign to ban donkey "taxis" on the island, including an ad blitz warning tourists to stay away, a letter from Athens-born rocker Tommy Lee, and a petition with more than 160,000 signatures hand-delivered to the Greek Embassy in Berlin.
Goodbye, Brick Kiln – Hello, Sanctuary
In India, instead of carrying tourists, donkeys haul backbreaking loads of bricks or sand and are treated like machines until they collapse from overwork. At night, they forage in piles of garbage, trying to find something to sustain themselves. Sometimes they accidentally eat plastic, and it clogs their intestines, causing a painful obstruction that leads to death. When working, they receive little if any water or respite from the scorching heat as they trudge along under their heavy loads. PETA-sponsored charity Animal Rahat provides veterinary treatment and frees donkeys from this life of labor by helping brick kiln operators replace them with eco-tractors. It's a win-win arrangement: Kiln owners enjoy increased efficiency and profits, and retired donkeys get to live out their lives in peace.
Soon, Animal Rahat's rescued donkeys (240 at last count!) will have even more room to graze and rest – on some beautiful land in the Nilgiri Hills. It will be a safe haven for donkeys like Lavender, whose mother Animal Rahat rescued from a brick kiln just before she gave birth.
Take Action Now
If you're asked to participate in an animal-exploiting activity during a vacation, please decline – and ask the organizers to stop offering such activities. Please also leave reviews on travel sites to warn other tourists. Visit PETA.org/Santorini to urge Greece to ban donkey and mule rides. And to help support the sanctuary in the Nilgiri Hills, sponsor a donkey at PETA.org/HelpDonkeys.