As temperatures soar, PETA fieldworkers are doing all they can to ensure that dogs who are forced to live outdoors have adequate protection from the deadly summer heat. Our friends at the San Francisco–based vegan dogfood company v-dog are helping, too, by generously donating 5 pounds of their Kinder Kibble—up to a total of 3 tons—to be distributed to "backyard dogs" in need for every donation made to PETA's doghouse program in July. Yahoo! reported on this exciting partnership, and the program has already been a huge success!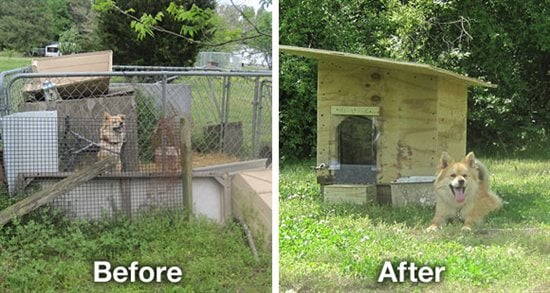 For those of us who cherish our canine companions, treat them as family members, and let them live indoors (as all dogs should), it's hard to imagine how anyone could ever leave a dog chained or penned outdoors 24/7, through all weather extremes. Many of these animals have no way to escape the scorching sun or violent thunderstorms, condemned to a life with little more than a flimsy plastic carrier or an overturned barrel for "shelter"—if they have any at all.
A sturdy PETA doghouse can mean the difference between life and a painful death from heatstroke for many of these dogs. And with v-dog's generous support, our team will help provide them with healthy, high-quality vegan dogfood.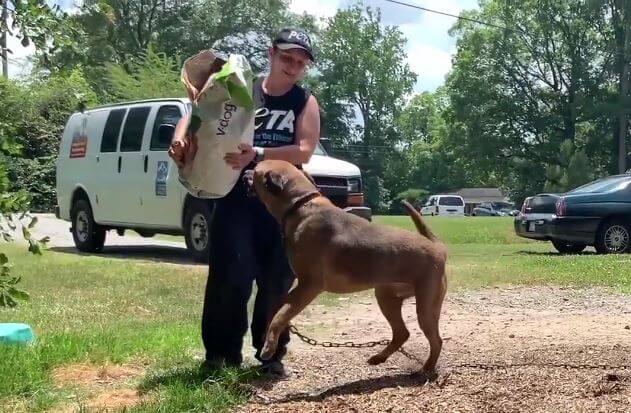 Since 2000, PETA's doghouse program has delivered more than 7,300 sturdy shelters to chained and penned dogs in Virginia and North Carolina—as well as lightweight tie-outs to replace heavy chains, flea and tick treatments, nutritious food, clean water, and the priceless moments of love and attention that dogs crave. Support from caring people like you makes this lifesaving program possible. Please, visit PETA.org/Doghouse to make a world of difference for a dog in need.
Sponsor a Doghouse