"If somebody is harming an animal, there is a good chance they also are hurting a human."
On a fall morning in 2009, Yale University graduate student Annie Marie Le went to her laboratory. Five days later, her body was found hidden in the building's basement. She'd been strangled to death by animal laboratory technician Raymond Clark, who had apparently lured her to the lab on the pretext of discussing the cleaning of mouse cages. He pleaded guilty to murder and attempted sexual assault and was sentenced to 44 years in prison.
Did Clark's job, which involved experimenting on animals, have any connection to the crime he committed against a member of his own species? As the deputy executive director of the National Sheriffs' Association puts it, "If somebody is harming an animal, there is a good chance they also are hurting a human." Serial killers Jeffrey Dahmer, Ted Bundy, and David Berkowitz ("Son of Sam"), to name just a few, all killed animals before murdering humans.
Clark isn't the only laboratory worker turned violent criminal.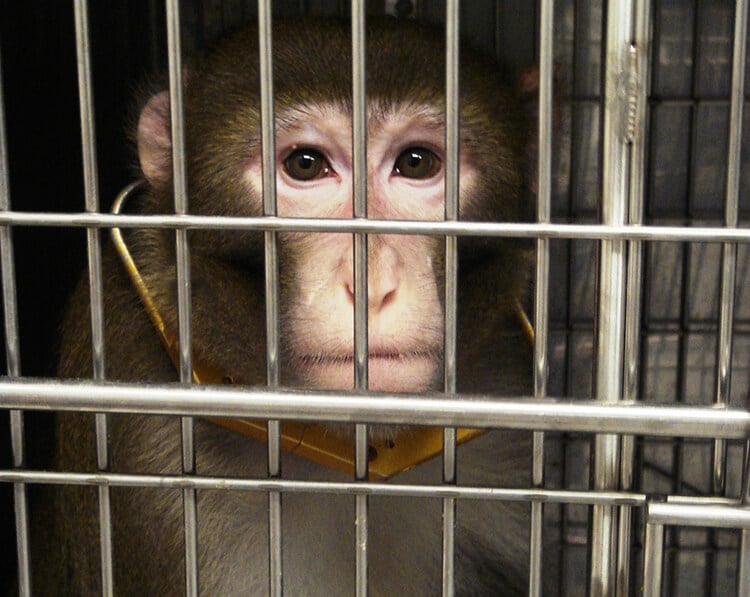 Dehumanizing Victims Starts in the Lab
Tracy McIntosh was director of the University of Pennsylvania's Head Injury Clinical Research Laboratory, where animals undergo horrific procedures, including the intentional infliction of brain injuries. In 2003, he was arrested for raping a prospective Penn veterinary student – a relative of a friend – after dosing her with a "date rape" drug used to kill rats in his facility.
He was initially only sentenced to house arrest for up to 23 months after the judge "factored in McIntosh's important work with stroke victims and brain injuries." But a public outcry prompted an appeal by the state, and he was then sentenced to up to seven years in prison for sexual assault.
Michael Katze infected mice and monkeys with Ebola, which causes an agonizing death. According to the University of Washington, where he was a professor, he made hostile and threatening remarks to staff, including derogatory comments about female, gay, and Asian employees. He also reportedly asked a staffer to solicit a prostitute for him, watched porn on his university computer, and sexually harassed two employees, even ripping one victim's pants. Katze showed no remorse, saying, "This kind of sh*t is completely unimportant to me." The university finally fired him in 2017.
Mass Killings and Murder
In 2013, Dr. Autumn Klein collapsed in her home and died three days later, after being poisoned with cyanide by her husband, Robert Ferrante, who conducted torturous Huntington's disease and amyotrophic lateral sclerosis (ALS) experiments on mice at the University of Pittsburgh. According to his research assistant, they killed "tons and tons" of mice. Ferrante was convicted and is serving life in prison.
In 2017, Wyndham Lathem and an accomplice, Andrew Warren, allegedly stabbed to death Lathem's boyfriend, Trenton Cornell-Duranleau, to fulfill a sexual fantasy. Lathem was an associate professor at Northwestern University who conducted painful plague experiments on mice, in which he allowed them to die of the infection rather than euthanizing them to end their suffering. Lathem and Warren allegedly stabbed Cornell-Duranleau 70 times, almost decapitating him. They are currently awaiting trial.
Death and Deception
When Hengjun Chao was running a lab at Mount Sinai's Icahn School of Medicine in New York City in 2007, one of his students accused him of data fraud after discovering that he had switched out mice to confirm a hypothesis. After being fired, Chao gunned down the school's dean, Dr. Dennis Charney, as he was leaving a deli. The victim survived but sustained neurological damage. Chao was sentenced to 28 years in prison.
Many animal abusers are psychopaths, a personality disorder marked by deception, manipulation, and a lack of empathy for their victims. According to the FBI, "This central psychopathic concept enables them to act in a cold-blooded manner, using those around them as pawns."
When animal experimenters torture animals, they may be emboldened by the fact that their crimes go unpunished, unlike crimes committed outside the laboratory.
Please tell Congress to stop supporting this cycle of violence with your tax dollars.
---
This article originally appears in our magazine, PETA Global. To begin your subscription, become a PETA member today!