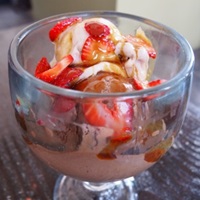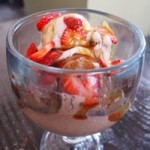 If my vegan sweet tooth has one weakness, it's ice cream. I think it's genetic, as my grandfather loves it, too, and I'm sure his grandfather loved it. And during the heat of summer, the call of frozen sweet treats becomes more and more difficult to resist.
But there is hope. When I was a child, the only vegan option on the table was a half-melted tub of raisin-flavored rice milk. Now, most grocery stores carry an arsenal of frozen vegan snacks that would buckle the knees of the most avid dairy lover. I think I've tried them all and know it's easy to stay cool and cruelty-free.
Since my early days, the rice-milk varieties have proliferated, refining their recipes in the process. While the main ingredient is often present as an aftertaste, it is, for the most part, entirely bearable—even pleasant if you're partial to rice milk. Plus, it's a relatively low-fat, low-calorie snack. And that's just for straight, unadulterated "rice" cream. When it comes to frozen treats—rice milk has a lock on it. "Rice"-cream sandwiches are available from a number of companies, and they are fantastic. Look for the carob-covered oatmeal-cookie sandwich, but be warned—nonvegans will go nuts about them, and you'll have to hide them in your freezer drawer.
Soy-milk varieties are quite nice. Like the tofu ice creams, also in this family, they have a lighter consistency than the rice-milk options, and the aftertaste is not as pronounced. And if you're willing to pay premium, there are some particularly decadent brands that could beat gourmet full-butter-fat ice creams any day. Try adding your favorite flavor to the blender and whipping it into a smoothie, as they lend themselves nicely to fruity drinks.
Hemp-milk ice creams are double-duty delicious and healthy. Hemp seeds provide protein, calcium, and antioxidants as well as omega-3 and -6 fatty acids to fight inflammation. So even if you're not a fan of the nutty taste, you'll know you've done your body good.
The emperor of all the vegan ice creams, however, is coconut milk. With an exquisite, almost fluffy consistency, coconut-milk ice cream sets the bar for melt-in-your-mouth delicacy. Even if I weren't dairy-free, I'd choose this stuff over the "real" thing any day.
And, of course, if none of those do it for you, stick with what grows on trees. Try blending some frozen fruit with a little bit of coconut water for a homemade sorbet. Short of that, frozen grapes make a satisfying low-cal, cruelty-free snack.
What frozen vegan treats have been satisfying your sweet tooth lately?
This article was written by Danielle Aykroyd, an artist and actor based in New York City. She is a recent graduate of Harvard University.