HODL it—does PETA accept cryptocurrency donations to help animals? Yes, we do!
In fact, PETA partners with crypto donation platform The Giving Block to accept more than 40 different types of cryptocurrency—including Bitcoin, Ethereum, and Amp, among others—to support our vital work for animals.
The cryptocurrency community is known for its creativity and innovation—a perfect match for PETA's envelope-pushing campaigns. If you are one of the more than 220 million crypto users worldwide and have been thinking about making a donation during the Bitcoin Annual Gift Season (or Bag Season), a gift to PETA is a powerful investment that's certain to yield more life-changing rescues and landmark victories for animals.
Donating crypto through the widget on PETA's cryptocurrency donation page is simple, safe, and efficient. Just do the following:
Select your preferred crypto, and enter your gift amount.
Type in your e-mail address and other basic information (or choose to give anonymously if you want).
Make your gift!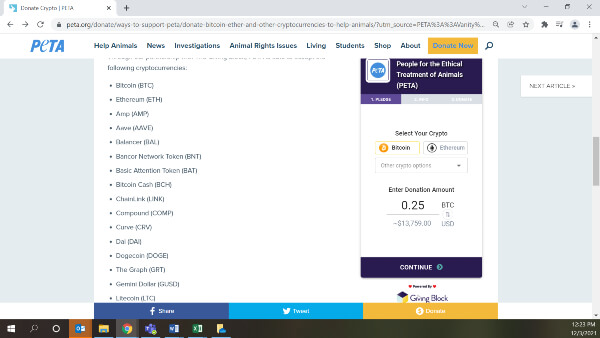 That's it! Cryptocurrency donations are also one of the most tax-efficient ways for individuals to support our work. If you pay taxes in the U.S., your crypto donation is tax-deductible to the fullest extent permitted by law. When you make a charitable gift to PETA, you may also be eligible to reduce what you would otherwise owe in capital gains taxes significantly—a savvy strategy if your crypto has increased in value. As with any tax-related decision, be sure to consult with a qualified, professional tax advisor.
When you make an annual cryptocurrency donation valued at $1,000 or more, you'll be welcomed into an exclusive group of PETA supporters—the Crypto Imagination Circle—a special family of PETA members who receive quarterly updates on the latest technology, research, and innovations in the animal rights movement.
PETA also accepts proceeds from the sale of non-fungible tokens (NFT)—just be sure to convert the proceeds into one of our supported cryptocurrencies first. We are extremely grateful to the generous supporters who have already donated NFT proceeds and cryptocurrency for using these funds to help PETA go to the moon for animals!
To donate or learn more, please visit our cryptocurrency donation page (and share it with anyone else you know who uses crypto and is a champion for animals!) or e-mail us at [email protected].