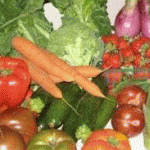 Do you love eating fresh, organic produce that is in season? What if you could get sustainably harvested fruits and veggies and support your local economy without ever setting foot in a store? Joining a CSA allows you to do so!
Community-supported agriculture (CSA) is a system of food distribution that allows individuals to pledge their support to a local farming operation in return for harvested produce. Consumers essentially pay for CSA shares or a CSA membership and then receive a box filled with a variety of farm-fresh fruits and vegetables each week.
CSAs benefit both the farmers and the consumers. Farmers get the opportunity to connect with their community and promote a regional food supply. Consumers get fresh produce that is in season and full of flavor and nutrients. As an added bonus, because farmers are selling directly to the consumer, costs can be kept low.
I recently joined a local CSA and cannot stop raving about it! My weekly bag overflows with delicious goods such as cauliflower, strawberries, zucchini, plums, red peppers, carrots, heirloom tomatoes, peaches, leeks, and kale. In addition to providing me with the building blocks for many healthy and flavorful meals, joining a CSA has inspired me to cook with different ingredients and try out new recipes.
CSAs vary by region, but you can search for one near you here. Have you tried a CSA? Are you planning on trying one in the future?