Right now in most areas, it's cold, wet, and windy. Some places even have snow, and temperatures often drop below freezing in colder areas. It's about time to shop for some warm clothes that are suitable for these weather conditions—for dogs, that is!
We often hear, "Dogs don't need coats—they have fur!" But is that really true for all dogs? Or can we make our canine companions more comfortable by dressing them for their winter walks? Keep reading for some advice on keeping dogs happy this winter.
Which dogs need protection from harsh weather?
Some dogs, like huskies, German shepherds, and collies, have an undercoat, while others, like Chihuahuas, Dobermans, and pit bulls, don't. Those who have one don't get cold as easily, and as long as they're moving around, their own fur will keep them warm. But be careful: A dog's body cools down quickly without moving around! So if your dog is going to be outside but inactive for more than 20 minutes or so, he or she will need a warm blanket to sit on and, if possible, a coat or another blanket to be covered up with. You should always keep a blanket in your car, especially in the winter.
Dogs without an undercoat get cold quickly and have almost no protection from the rain and snow. Their fur gets soaked easily, just as human hair does. And if their skin is wet, they get cold. And young, old, weak, and infirm dogs will need additional protection from the cold. Warm clothing that also keeps them dry is absolutely necessary in bad weather.
And here's something that might be an issue for any dog: Our homes are heated in the wintertime, so there's an enormous difference between indoor and outdoor temperatures that dogs have to cope with as they go in and out. Warm clothes worn outdoors can help to mitigate that extreme fluctuation in temperatures.
Types of Dog Clothes
Sweaters
Specialty shops and countless online stores sell dog sweaters made of synthetic materials in all sizes, styles, and colors. If it's cold and dry out, sweaters are perfect for pups who need a little extra protection from the frigid temperatures. If it's wet out, a sweater may not be the best choice, as it'll absorb water and become heavy and cold.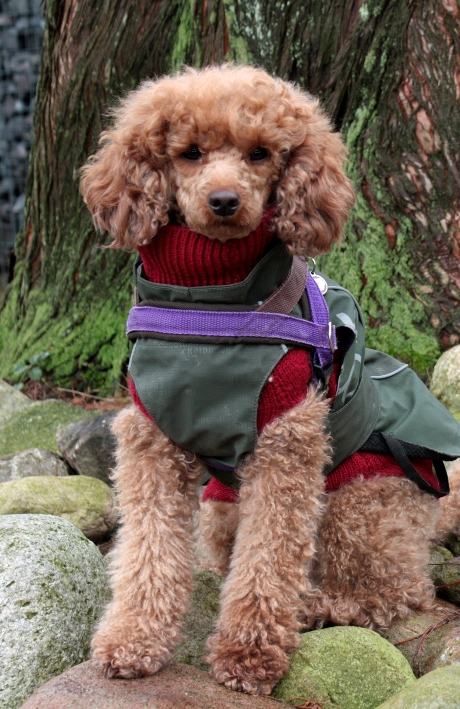 Gorgeous Fienchen is the companion of Sylvie, who works for PETA Germany
Raincoats
Today, many different types of raincoats are available for dogs made with water-repellent materials, such as Teflon-coated nylon, waxed cotton, or soft-shell fabrics—similar to those used in raincoats for humans.
Winter Coats
If it's really cold, a sweater or raincoat won't do the job. There are lots of great options out there, including fleece-lined winter coats. Coats made with quilted materials are also suitable, as they'll stay nice and snug around the dog's body. Some even have an extra-long collar to prevent snow from getting on the dog's neck.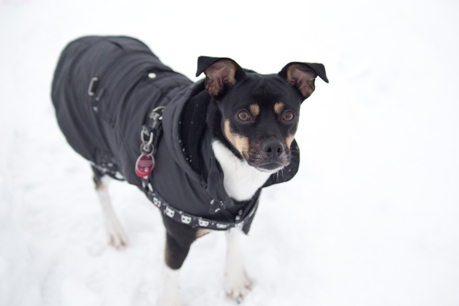 And adorable, bundled up Jack is the companion of Conny at PETA Germany
Long Sleeves
For dogs who are particularly sensitive to the cold, you can buy winter apparel with sleeves and leggings—that way, even their limbs will stay warm and dry! Some may feel a bit awkward wearing these clothes at first, but most become used to the idea quickly, especially after realizing how warm and toasty they are.
Boots
Ice can accumulate and cling to the fur on dogs' paws, and road salt and grit can also harm their paws, but that's where dog booties come in. Let your dog try them out first to make sure they fit well don't cause any discomfort.
Scarves
To keep dogs' necks warm, you can buy cozy dog scarves that are made out of synthetic materials. These are especially good for dogs with long necks and those who don't have an undercoat.
Tip: Mix and match! For example, if it's cool and rainy, some dogs may be more comfortable wearing a sweater underneath a rain coat. Layering can often be the answer for dogs who would otherwise be shivering.
What you can do
Put yourself in Fido's "shoes" and buy some warm winter clothes for him if it will make him more comfy. And please don't force him to be out in any weather that he doesn't enjoy.
This article was originally posted on PETA Germany's PETA50Plus website and has been adapted for PETA Prime.