Hoppy Chinese New Year!
You may know that 2023 is the Chinese Zodiac's Year of the Rabbit—which we love! After all, PETA's logo includes an image of a leaping bunny. And our Global Beauty Without Bunnies database boasts over 6,000 brands offering cruelty-free products. Since the Year of the Rabbit symbolizes longevity, peace, and prosperity—which all rabbits deserve—we've rounded up a few of our top blog posts about bunnies, information about our past victories for them, and actions we can all take to help rabbits today.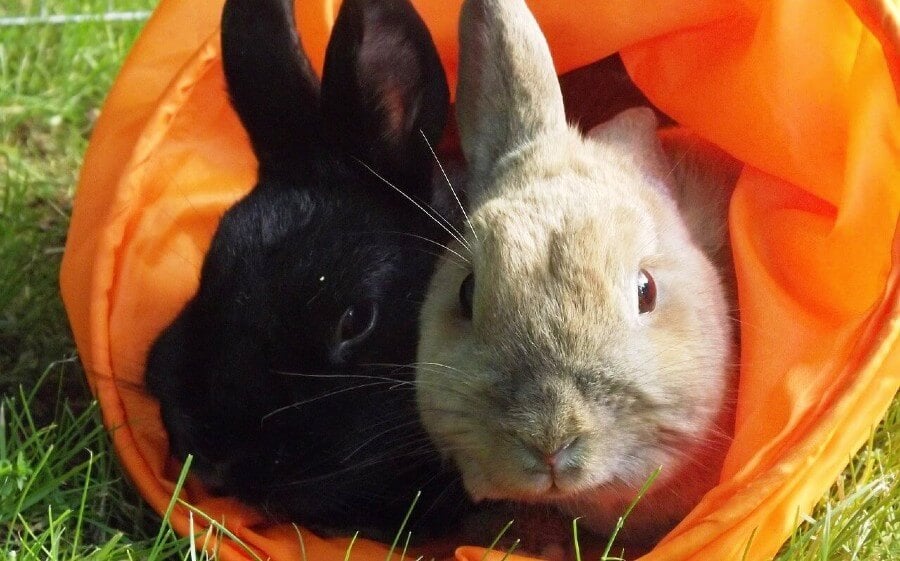 Please enjoy going down this rabbit hole:
Why You Shouldn't Buy a Rabbit, and How to Care for Them If You Already Have One
Breeders and bunny mills exploit masses of adorable baby bunnies every year, just in time for Easter. But after just a few weeks, many of them are dumped in parks or taken to animal shelters because they're no longer welcome. Rabbits are the third most commonly abandoned companion animal. Read this blog post to find out why.
Rabbits are herbivores who eat constantly during the day. These nibblers have an efficient digestive system—but be careful. In extreme cases, they may die from eating the wrong kind of food. Guardians must use caution in selecting proper foods for them, so check out this blog post for some handy tips.
Rabbits are prey species, making them adept at disguising ailments. Every guardian must learn about the warning signs of an ill rabbit, because they have a greater chance of recovery if their caretaker responds swiftly to unusual behavior. See this blog post for more details.
PETA Victories for Rabbits
Some sounds can disturb you to the core. When PETA Asia released its traumatizing eyewitness video evidence revealing that employees violently pull the fur out of angora rabbits' writhing bodies, viewers were aghast and appalled. Many consumers swore never to wear angora again and contacted retailers and designers in droves, demanding that they stop buying it. The number of businesses that have banned angora—to the delight of their compassionate clientele—continues to grow. Check out this blog post for more information.
The revocation of Joshua Stoltzfus' license ended his Pennsylvania guinea pig and rabbit breeding operation. He was also slammed with a $40,000 fine by authorities. Read more about this outstanding victory.
Carole Van Wie, the disgraced owner of Bunny Magic Wildlife & Rabbit Rescue Inc., was charged with 13 counts of cruelty to animals. After receiving a complaint from PETA, authorities searched the facility and seized 222 rabbits, leading to the charges. Authorities allegedly had to wear masks as they waded through up to 4 inches of excrement to rescue the suffering, flea-infested, sick bunnies. See the blog post for more information about this important win.
Take Action for Rabbits
Winners, a department store owned by TJX Companies, is eliminating the sale of fur after years of intense lobbying from PETA and other activists, including feedback from more than 90,000 of our members and supporters worldwide. But TJX Companies, including T.J.Maxx, still refuses to ban cruelly obtained angora. Learn how to take action for rabbits abused for their coats with this blog post.
The town of Paradise, Utah—in conjunction with the local Lions Club—arranged a "rabbit chase" at the town's annual Easter festival in 2022, despite objections from PETA and other animal advocates. More than 20 rabbits were reportedly placed in a field and chased by screaming children. Many of them were paralyzed with fear as throngs of adults raucously cheered on the young participants. See our blog post for more information about this cruel event.
Just like dogs and cats, rabbits are socially complex, intelligent, unique individuals. In nature, they maintain immaculately clean burrows, look for food, and socialize with others. But some are still used for cruel experiments—and they need your help. So in honor of the Year of the Rabbit, check out our blog post to learn what actions you can take to help bunnies today.
*****
Even though rabbits are socially complex, intelligent individuals with unique personalities, these gentle beings are among the world's most abused animals, whether for experiments, food, or clothing or under the guise of companionship. PETA is fighting—and winning—campaigns to end their suffering, scoring victory after victory for bunnies used in cruel experiments.
See PETA's Progress to Liberate Rabbits in Laboratories
And become part of the next victory for rabbits!
Help Bunnies During the Year of the Rabbit and Beyond