Google Maps has worked its way into the fabric of modern society, helping millions of Americans maneuver daily. While most of us may use it to find locations and navigate traffic, did you know that you can also use Google Maps to promote animal rights?
All you have to do is post pictures of animal rights landmarks and messages that you see (or create) by clicking on the location's icon, scrolling below the listed information (address, hours, etc.) to the "Photos" section, clicking "Add a Photo," and selecting or uploading the file. It will automatically be added as an official map entry.
For example, a PETA employee saw a stop sign decorated with a "Hurting—Go Vegan" sticker at a Whole Foods store and posted a picture of it to the Whole Foods Google Maps location.
Now, when someone searches for that Whole Foods store in Google Maps, they'll see a photo of the pro-vegan stop sign. Our post also helped bury some of the animal carcass photos that were posted on the Whole Foods map entry—double score!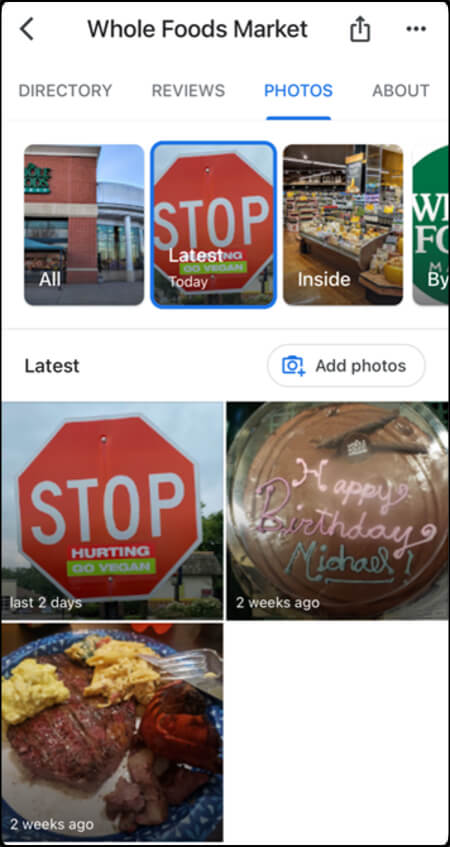 Coming up with creative new ways to help animals is fun, and you can see the fruits of your activism directly on Google Maps.
To attract more readers to the Little Free Library outside PETA's Washington, D.C., headquarters—the Nanci Alexander Center—we posted an image of it on Google Maps. Now, every time someone searches for the Nanci Alexander Center, they can see PETA's free library outside with animal rights literature—inspiring them to go vegan, to stop wearing wool and all other animal-derived materials, and to engage in other simple acts of kindness that protect animals. Just see how many views our library photo has racked up already!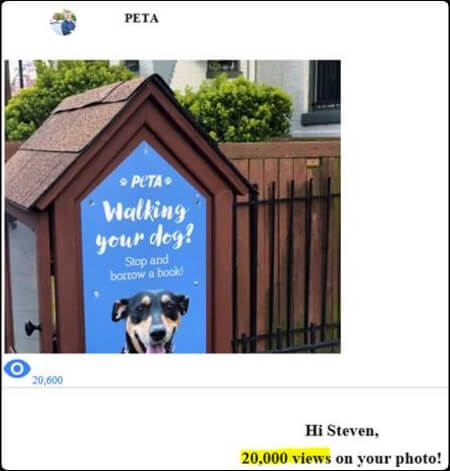 If you have a PETA yard sign or sticker on your car or window, post a photo of it to your address on Google Maps! That way, when someone searches for your house, they'll see your animal rights messages before they arrive. Heck, it might even inspire them to bring hummus instead of ham (shudder) when they visit.
A picture is worth a thousand words, and there are many ways to help animals. Your compassion and internet smarts have the power to inspire others—and a few posts to Google Maps is a great place to start.
Discover More Ways to Get Active for Animals Online