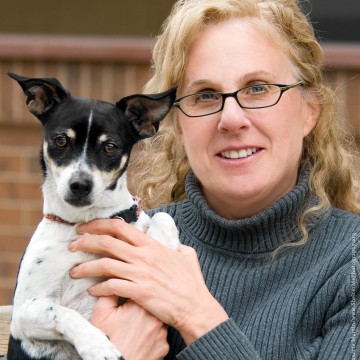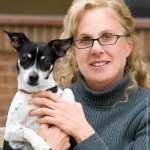 While living in Tel Aviv in 1982, Jessica Sandler walked into a pet store to purchase a leather collar for her dog. It suddenly dawned on her that she was buying the skin of one animal to put on another. She says, "The inconsistency of lavishing affection on one animal while allowing others to be subjected to unspeakable horrors so that I could eat and wear them became too great, and I decided to stop consuming animals."
Soon afterward, Jessica found her way to PETA and became a committed animal rights activist who, with degrees from Harvard and Johns Hopkins, would go on to become the senior director of PETA's regulatory testing division as well as heading up the new PETA International Science Consortium, Ltd.—a team of highly trained PETA scientists on three continents who are changing the face of chemical testing.
With more scientists on staff than any other animal rights group, PETA has become the single most successful organization in replacing animal tests with superior non-animal methods.
Jessica's team has saved not hundreds or thousands but millions of animals from being poisoned and killed, and these scientists have positioned themselves to save even more by participating in expert working groups, gaining accredited stakeholder status with important government committees, publishing papers in peer-reviewed scientific journals, and guiding companies around the world on replacing animal tests.
We hope you enjoy the following interview with this pioneer in the movement to end the use of animals in toxicity testing.
Augustus Club: When and how did you become involved with PETA?
Jessica Sandler: I started volunteering at work parties in the mid-1980s when PETA's headquarters were a little warehouse in Kensington, Md.
AC: When did you join the staff, and what was your first job at PETA?
JS: PETA created the position of federal agency liaison for me in 1998, when the organization decided to target the use of animals in regulatory chemical testing programs. The job was a custom fit because I had worked as a specialist in biological and chemical hazards for two federal agencies and my master's degree was in environmental health science.
Because no one else was focusing on this issue and there was such great potential to save so many more animals in this area, we eventually created an entire regulatory testing division.
AC: Of the tens of millions of animals used in experiments every year, at least 15 percent are used in toxicity testing. What are toxicity tests?
JS: These are tests that are required by government agencies to try to determine the health hazards of substances that can run the gamut from gasoline to aloe vera. Hundreds of thousands of animals are forced to eat toxic substances, are squeezed into narrow containers and forced to inhale them, or have them rubbed onto their abraded skin. Pregnant mothers are poisoned, and their babies are cut up and examined. However, despite all this suffering, the Environmental Protection Agency (EPA) has banned fewer than a handful of toxic industrial chemicals in decades!
AC: Are you optimistic about long-term changes in the use of animals for toxicity testing?
JS: Yes. Thanks largely to PETA, a sea change has occurred in this area. PETA has funded the development of non-animal test methods and convinced people at the highest levels of industry and government that non-animal methods are not only better science but also faster, cheaper, and more reliable.
JS: What is your proudest accomplishment in your time at PETA?
PETA's regulatory testing division has been integral to the revolution in toxicity testing that is taking place. We've completely turned the field on its head from where it was 25 years ago. Following a decade of PETA pressure, the EPA commissioned a National Academy of Sciences report, which found that animal tests are inaccurate and that reliance on them is costly. The report proposed a shift to using sophisticated non-animal tests—an enormous policy change that the EPA is now pursuing.
AC: What makes PETA more successful than other organizations in this area?
JS: We are the only organization willing to dedicate a significant percentage of its resources to fighting animal testing for regulatory purposes, including providing considerable funding for the development and use of cutting-edge non-animal tests. Other groups saw the problem as insurmountable and wouldn't touch it. Our team of science and policy experts faces these challenges head on. We're even tackling new and cutting-edge issues such as nanotechnology to ensure that this sophisticated high-tech field takes full advantage of non-animal testing methods, which are also sophisticated and high-tech.
AC: In your opinion, what makes PETA so uniquely effective in changing the minds of policymakers?
JS: PETA is fearless when it comes to tackling intractable issues. Our power comes from working on multiple levels with a variety of tactics: compiling scientific data and arguments, testifying before Congress, using shareholder resolutions to leverage negotiations with corporations, and using the media to our advantage. As one example, in the late 1990s, Al Gore and the EPA developed the High Production Volume (HPV) Challenge Program, at the time the largest animal testing plan in history. PETA attacked the plan by lobbying White House officials and presenting solid scientific arguments.
Because Gore was running for the Democratic nomination for president, PETA sent a campaigner in an 8-foot-tall rabbit costume to trail him at his campaign stops with a sign that said, "Gore: Burn Bunnies, Lose Votes." Each time the giant bunny came out, I would receive a call from Gore's right-hand person requesting that we resume talks, and eventually, we negotiated a landmark agreement with the White House that saved an estimated 800,000 animals from being killed in the HPV program.
Now our reach is global. With the establishment of the PETA International Science Consortium, we're making major changes to international requirements for government-mandated animal testing and helping scientists use the latest non-animal tests in China, the EU, India, and New Zealand.
AC: Are there any personal anecdotes about PETA that you would like to share with our Augustus Club members?
JS: PETA introduced me to one of my beloved family members: a sweet beagle mix whom I named Libby. She was rescued from a North Carolina laboratory hellhole that shuttered its doors and surrendered more than 250 animals as the result of PETA's undercover investigation. PETA is the only animal-protection organization that has ever been responsible for shutting down an animal testing facility.
When I first met her, Libby was bone-thin and sick. She crawled to me on her stomach—too afraid to stand up but desperate for a kind touch. Now, she's the very definition of joie de vivre. She bonded quickly with her two adopted canine siblings. They spend the day racing around, wrestling, or napping, curled up together.
I am so grateful to our Augustus Club members for helping PETA rescue Libby and for supporting our work to save all animals from painful and deadly tests.
This article was originally published in PETA's Augustus Club newsletter. PETA's Augustus Club is a complimentary club honoring those who are leaving a legacy for animals through a planned gift to PETA. If you have made a planned gift to PETA, please let us know so that we can thank you! If you have not yet left a legacy for animals but would like information on how to do so, please contact us.