Wherever a tragedy puts animals at risk, we're there to help them. PETA entities worldwide, working together with local groups in affected areas, quickly mobilize teams of rescuers and send them into the hardest-hit areas to reach the victims who might otherwise be overlooked: the animals. From those who were displaced by the Beirut explosion to the community dogs in India whose daily meals stopped coming when COVID-19 forced restaurants to close, your support is helping animals when they need it most.
Here are just some of their stories:
The Beirut Explosion
As we watched the horrific footage of the explosion in Beirut, we were shocked, saddened, and quietly determined. Working quickly, PETA U.K. contacted Animals Lebanon and sent a staff member to the city to help climb through ruins and search abandoned buildings to locate the animals who were trapped, terrified, hurt, or separated from their families.
One of them was Lola, a shell-shocked young chicken who had sustained a fractured hip and was hobbling along as best she could when our rescuer found her in a pile of rubble. The staffer rushed her to a veterinarian for emergency care. Now, the sweet bird is on the mend and being cared for by a kind vegan couple in her new home with a flock of 30 rescued chickens on the outskirts of Beirut. She even has a new best friend: Greg, a rooster, who immediately took Lola under his wing.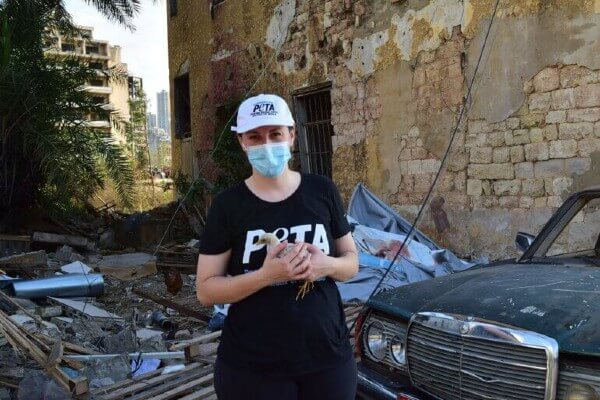 The COVID-19 Pandemic
As COVID-19 spread around the world, many people suddenly found themselves without funds to care for their animal companions. PETA's fieldworkers organized a food drive, loaded up vans, and drove hundreds of miles throughout the areas surrounding our Virginia headquarters, delivering bags and cans—along with anything else the animals needed—to recipients such as the ones in this beautiful thank-you video:
PETA Asia, PETA India, and the PETA-supported Indian rescue organization Animal Rahat sponsored their own drives, collecting food for animals whose guardians who had lost their jobs as well as for the "community" dogs and cats (and even bulls!) who usually depend on restaurants, food stalls, and kind passersby for their meals. The animals also received clean water, needed veterinary care, and much-appreciated affection.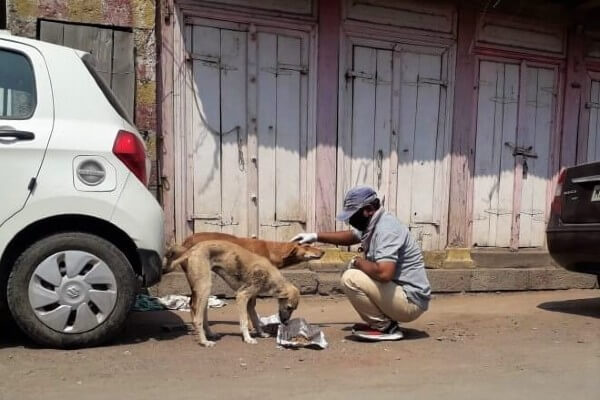 This vital work will be ongoing for as long as the pandemic lasts.
The Taal Volcano Eruption
When Taal Volcano in the Philippines erupted, PETA Asia's search-and-rescue team immediately went into action, knowing that many animals they had helped over the years would be in great danger—if they had survived the inundation of lava and ash. The group had a long-running clinic on Taal Island in conjunction with International Veterinary Outreach at which they supplied free medical care to horses forced to haul tourists up the volcano's steep embankments and any other animals who happened to show up.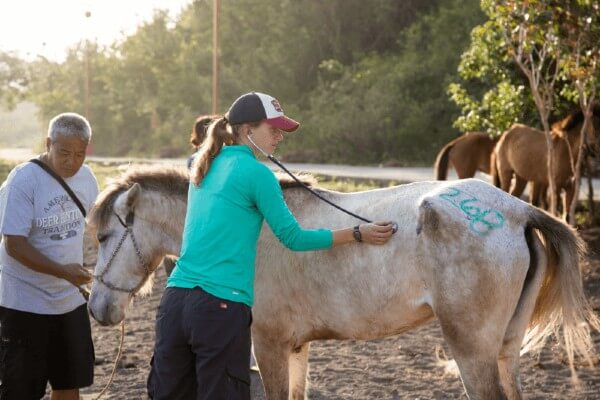 In January, after the volcano spewed ash into the air and sent lava streaming down its sides, no one was allowed on the island. However, as PETA Asia's Jason Baker put it:
"We're PETA, so 'no' means 'try harder.'"
Rescuers found a way to get onto the island and saw dogs, cats, pigs, chickens, goats, ducks, horses, herons, doves, and other animals who were scared, hungry, and covered with ash.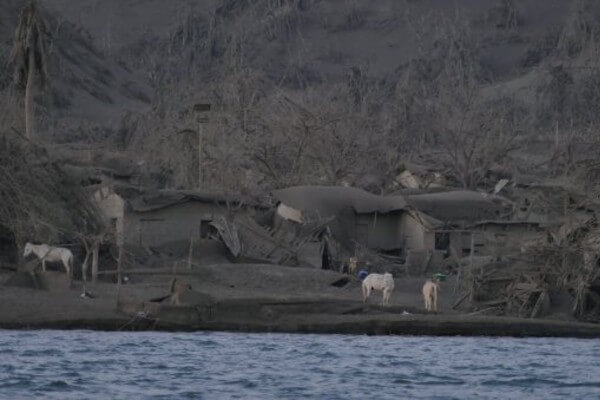 Like a modern-day Noah's ark, they loaded their boats with as many animals as they could, hauling them off the island and into the evacuation zone. There, an assembled team of veterinarians and other volunteers took over as the rescuers ferried food and water back over to Taal for all those who would need to hang on until the next trip. In trip after trip, they brought more and more of the animals they knew and loved to safety.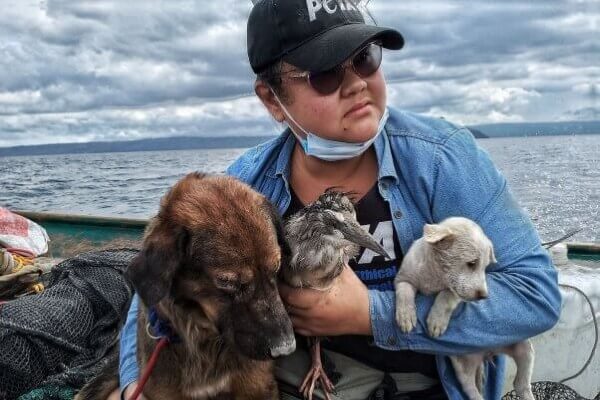 Over the weeks-long rescue effort, PETA Asia and a huge group of volunteers saved hundreds of animals from Taal Island. Many are now in loving homes.
Hurricane Dorian
As Hurricane Dorian churned up the East Coast last fall, PETA's Emergency Rescue Team prepared for the calls that they knew would be coming. Staffers had already spent days calling Virginia and North Carolina residents to urge them to bring their dogs and other animals inside to ride out the storm, but they knew some animals would still be in need of help. As they answered the phones, they learned that five wind-battered and disoriented pelicans were stranded on Virginia's busy Lesner Bridge. As cars whizzed by, sending sheets of water into the air, rescuers tucked the birds under their arms and rushed them to a wildlife rehabber.
In just a few weeks, all the birds had recovered and were ready to be released, along with 12 other pelicans who had been rescued in the same area by quick-thinking people. The birds' rehabber, Tidewater Rehabilitation & Environmental Education, invited the rescuers to be present at the release. A video camera captured the beautiful moment when the animals, after briefly hesitating and sticking close to the people who had saved them, took to the sky in a moving final farewell.
Philippine Wildfires
The Philippine wildfires of 2018 and 2019 didn't get as much media coverage as those in Australia or the Amazon, but they were no less devastating for the animals caught in them. PETA Asia rushed to Bacoor and Orion armed with food, burn treatments, and other necessities. At the evacuation centers and while trudging through the remnants of homes and buildings, the group's rescue team found no shortage of grateful recipients.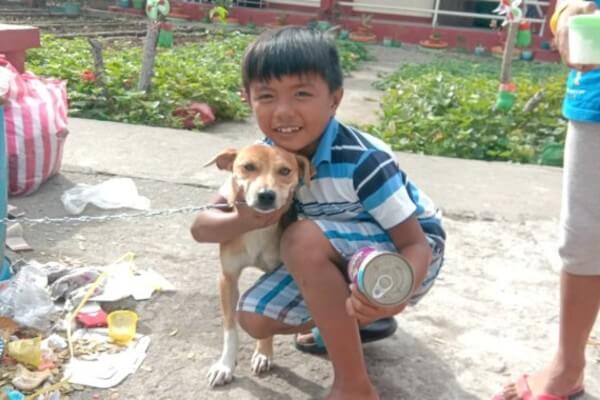 Hurricane Florence
Hurricane Florence brought historic flooding to the East Coast in the fall of 2018. With roads impassable, PETA rescuers climbed into boats and scoured many miles of the Virginia and North Carolina coast looking for animals who were trapped—despite the many urgent animal safety messages we had persuaded media to air as the storm approached. Much of the water was contaminated with feces that had gushed out of the flooded pig farms nearby. Not surprisingly, our team found dogs chained in flooded pens, cats trapped on porches as water continued to rise, a kitten in a car engine, a dog swimming in his yard, chickens in submerged coops, and many others, all of whom were pulled to safety. After the waters receded, we were able to remove many of the animals from their neglectful owners and get them placed with caring guardians who will ensure their safety in the event of future disasters.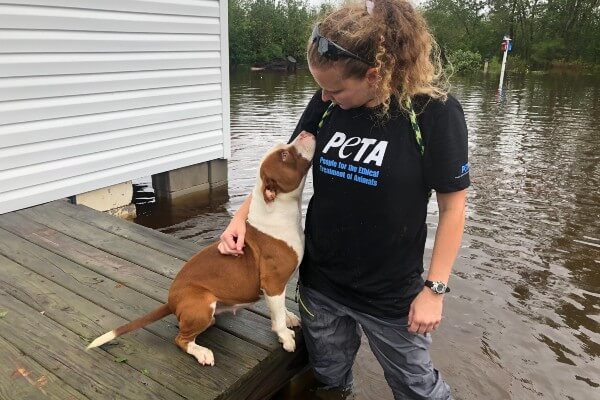 *****
PETA supporters have helped us rescue animals from numerous other floods, hurricanes, earthquakes, and tornadoes. You've helped us send critical information about protecting animals to media around the world in advance of disasters to prevent tragedies before they occur. You've helped us spend days calling people with chained dogs, urging them to bring their animals inside to safety when the weather turns dangerous. You've provided countless victims of tragedies of all sorts with food, water, and medical care.
To everyone who has rushed crisis donations to PETA's Animal Emergency Fund, thank you. If you'd like to give a loved one the gift of saving a life, please consider making a donation in their name to help PETA continue to rescue animals anywhere they need us most.
Give to PETA's Animal Emergency Fund Today
Click here for more dramatic and touching rescue stories and the conclusion of our special report on our more than 20 years of disaster relief work.