Please enjoy this article from the latest issue of our magazine, PETA Global. To begin your subscription, become a PETA member today!
---
In his introduction to Linda McCartney's Family Kitchen, Paul McCartney writes, "For Linda, being vegetarian was first and foremost an act of kindness and compassion – it was about the animals." Linda was an animal rights dynamo and a dedicated PETA supporter (to whom a beautiful rose bush is dedicated in PETA's Bea Arthur Dog Park), and she and Paul, along with their daughters Mary and Stella, have inspired many people to make kind choices – starting with what they put on their plates. These festive recipes, perfect for holiday gatherings, are adapted from two of the McCartney family favorites in this delightful cookbook – and they're a tribute to "Linda, the animals' angel." Order a copy of Linda McCartney's Family Kitchen today for yourself or a friend!
Deep-Dish Pot Pie
Makes 4 to 6 servings
YOU'LL NEED

2 Tbsp. olive oil

1 large onion, chopped

8 oz. button mushrooms, thinly sliced

3 cloves garlic, minced

1 Tbsp. white spelt or all-purpose flour

1 lb. vegan meatballs (or burgers), roughly chopped

1 tsp. fresh thyme leaves

1 cup vegetable stock

2 tsp. wholegrain mustard

1 Tbsp. soy sauce or tamari

1 Tbsp. balsamic vinegar

Sea salt, to taste

Freshly ground pepper, to taste

2 sheets vegan puff pastry

Plant-based milk of your choice, to brush on the top
METHOD
Warm the oil over medium heat in a large nonstick frying pan. Add the onion and mushrooms and sauté for 12 to 15 minutes, until the pan is mostly dry and the mushrooms are golden. Add the garlic and cook for another 3 minutes, until aromatic.
Mix in the flour and cook for 3 minutes, stirring frequently. Add the meatballs or burgers, thyme, and stock and bring to a boil. Reduce the heat and simmer for 5 minutes, until the sauce is thickened. Stir in the mustard, soy sauce or tamari, and balsamic vinegar and cook for another 3 minutes. Season with salt and pepper.
Preheat the oven to 425°F/225°C. Turn a 9-inch (23-cm) pie plate upside down and place it on top of one of the sheets of puff pastry. Cut around the perimeter of the dish, leaving an extra ½ inch (12 mm) of pastry all the way around. Turn the dish over with the pastry lining it and fill it with the pie mixture. Dampen the rim of the dish with a little water, then carefully place the other sheet of puff pastry on top and crimp the edges into place.
The leftover pastry can be used to create cutouts for the top of the pie – leaves or letters, for example. Brush the top with a little vegan milk and make a small hole in the center.
Bake for 10 minutes, then reduce the heat to 400°F/200°C and cook for another 15 to 20 minutes, until golden and crisp. Serve immediately.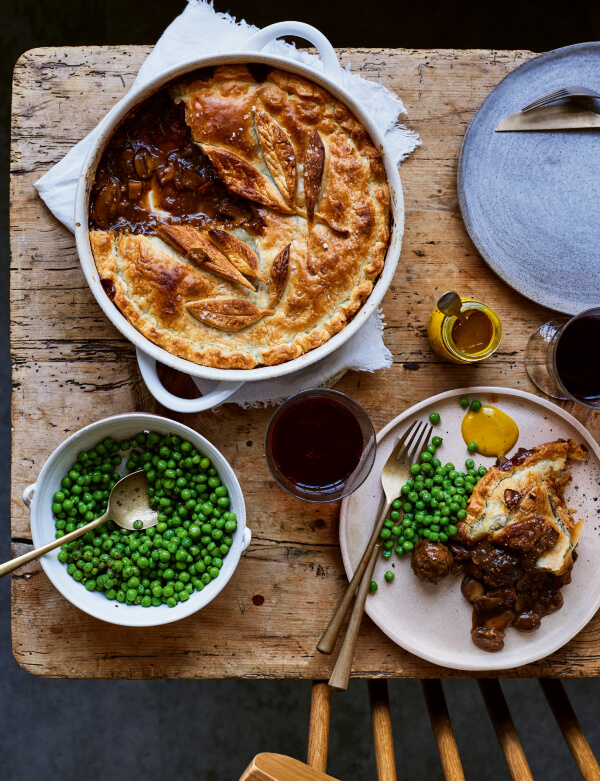 ---
Gingerbread Cake
Makes 6 servings
YOU'LL NEED

1 Tbsp. ground flaxseeds

3 Tbsp. warm water

9 Tbsp. nondairy butter

½ cup raw cane or white sugar

2 cups white spelt, all-purpose, or gluten-free flour, sifted

1 tsp. baking powder

1 tsp. baking soda

1 tsp. ground cinnamon

1 tsp. ground ginger

¼ tsp. ground nutmeg

½ cup unsweetened vegan milk

2 Tbsp. blackstrap molasses or treacle

Maple syrup and nondairy yogurt or cream, for serving
METHOD
Preheat the oven to 350°F/175°C. Grease an 8-inch (20-cm) round cake pan and line with parchment paper.
Put the flaxseeds in a bowl with the warm water and set aside.
In a large bowl, cream the nondairy butter and sugar with an electric mixer until light and fluffy. Fold in the flaxseed mixture, flour, baking powder, baking soda, cinnamon, ginger, nutmeg, and vegan milk until smooth. Gently warm the molasses or treacle until runny, then fold into the batter.
Transfer to the cake pan and bake for 35 to 40 minutes, until a toothpick inserted into the center comes out clean. Allow to cool for 10 minutes, then turn out onto a wire rack to cool completely.
Serve with a drizzle of maple syrup and nondairy yogurt or cream.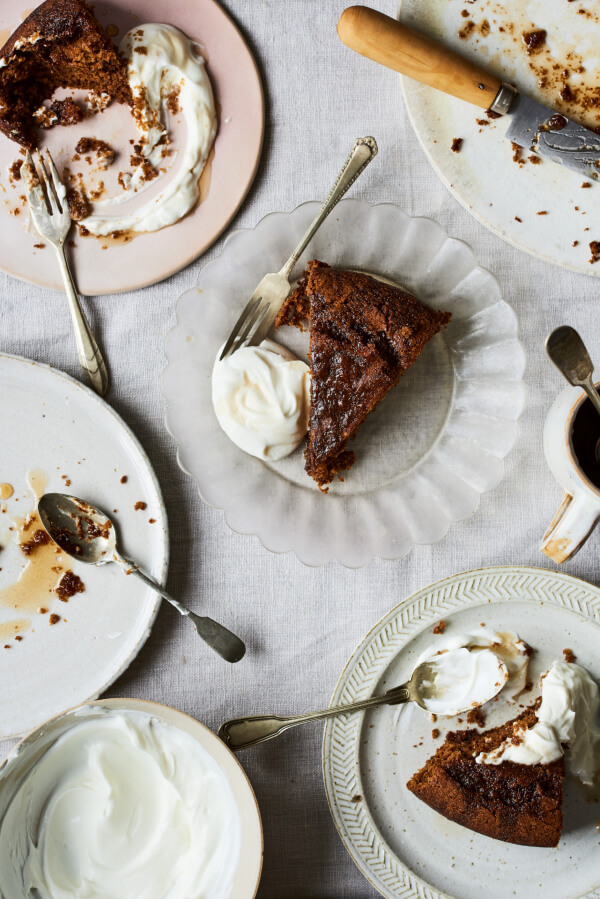 Excerpted from LINDA MCCARTNEY'S FAMILY KITCHEN. Recipes and additional text copyright © 2021 by Linda Enterprises Ltd. Photography by Issy Croker. Used with permission of Voracious, an imprint of Little, Brown and Company. New York, NY. All rights reserved.