Vegans Save 198 Animals a Year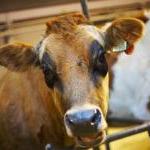 We have some good news and some bad news. First, the good news: The total number of land animals killed and eaten by Americans decreased by 300 million between 2008 and 2009 and by 600 million between 2006 and 2009. Americans also ate fewer fish in 2009-500 million fewer than in 2008. The bad news is that Americans are eating more shellfish-the average American ate about five more crabs, lobsters, shrimp, and oysters than in 2008.
These figures come courtesy of PETA member and mathematician extraordinaire Noam Mohr, who has studied government and industry figures and compiled a report on the number of animals served up on American tables. You can read his entire report here.
Based on these figures, Noam calculated that each year the average person consumes the following (approximately):
Since vegans eat no animals (or any animal products), each vegan spares about 198 animals from being torn out of their ocean homes or confined to cramped, filthy barns, cages, and pens before being hung upside down on the slaughter line and having their throats cut.
All of which makes your number one New Year's resolution pretty much a no-brainer, doesn't it? Go vegan!  You'll save nearly 200 lives-and just maybe your own too.