Please enjoy this article from the latest issue of our magazine, PETA Global. To begin your subscription, become a PETA member today!
---
PETA Germany was well aware of the big risk: Three Ukrainian volunteers delivering food to starving animals in war-torn Bucha had been fatally shot. But with animal shelters destroyed and food running out, they also knew that animals would definitely die without quick action. So, as soon as Russian soldiers left the city and the streets were cleared of mines, activists went in, loaded with kibble for dogs and cats who hadn't eaten in days.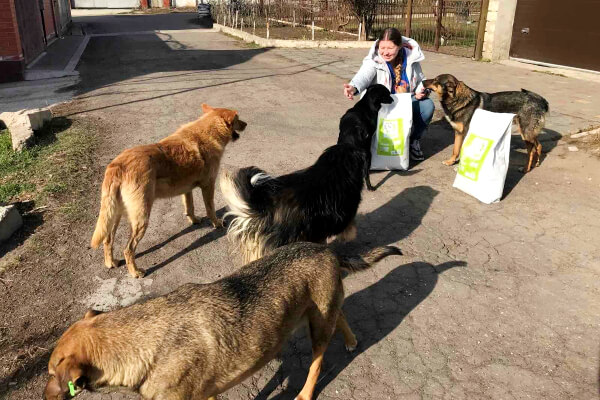 They also helped a woman who had been trapped in Bucha with her dogs, cats, and twin boys during the siege. On the way back out, PETA Germany volunteers loaded up the whole family and, after a perilous 30- hour drive, delivered them safe and sound to Germany.
Racing to Help Refugees
Whether it's human-caused calamities or natural disasters, PETA's Global Compassion Fund empowers PETA entities to speed relief to animals who need it the most. Funded by contributions from kind individuals, it enabled PETA Germany to rush teams to the Romanian and Polish borders just hours after the first Russian missiles were fired. One woman carried her cherished cat, Crimsee, 37 miles (60 km) on foot and was so exhausted that she couldn't even stand up. They're both safe now, with PETA Germany's help.
Delivering Food – and Rescuing Animals
With bombs still exploding, PETA Germany and its partners made the perilous trek into war-torn Ukraine day after day with truckloads of food, delivering 600 tons by the end of May. Because parts of Ukraine were still covered with snow, 100 stranded horses were in danger of starving, as there was no grass for them to eat. The team was determined to reach the horses with food – and they did!
PETA Germany has also transported over 1,500 vulnerable animals out of Ukraine, including Marius and Pamplemousse, beloved cats whose family had to leave them in Lviv when they fled. A lot of purring – and tears of relief – followed when the team reunited them with their grateful guardians.
Ripping Through the Red Tape
PETA entities around the globe pushed hard to get countries to ease entry requirements for animals from Ukraine so that refugees would not be forced to leave their animal companions behind to die. Mercifully, the Czech Republic, Hungary, India, Lithuania, Poland, Romania,  Slovenia, Switzerland, the UK, and others agreed. Mexico  initially barred animal evacuees but quickly reversed the policy after an open  letter from PETA Latino caused a public outcry.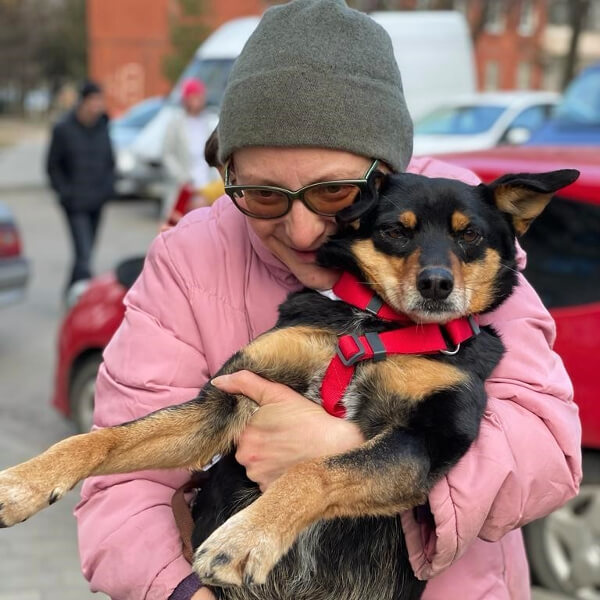 Battling Animal Homelessness in Romania
Even before the war began in Ukraine, PETA Germany and its partner organization Eduxanima were tackling a different sort of disaster in Romania. With more than 600,000 dogs and cats struggling to survive on the country's streets, PETA Germany's free spay/ neuter services, doghouses, and veterinary care – all sponsored by the Global Compassion Fund – are saving lives. Maya, a dog found with multiple broken bones and struggling to crawl, is just one of the thousands they've helped. The team performed multiple surgeries, using screws to hold her bones together, and she's now on the mend.
On the Front Lines, From Beirut to Bhopal
After the Taal volcano erupted in the Philippines, PETA Asia was the first group to reach the remote island. Backed by the Global Compassion Fund, the team took over boatloads of food and supplies every morning, and every night it ferried back dogs, cats, horses, and chickens plucked from the ashes. After a deadly explosion rocked Beirut, the Global Compassion Fund sponsored a PETA UK rescuer who saved animals from the ruins, including a young chicken with fractured hips.
The fund also enabled PETA entities to speed relief to animals in New South Wales, Australia, and Maharashtra, India, following unprecedented flooding.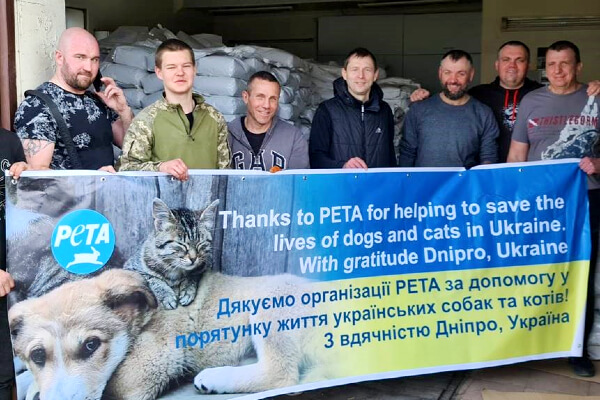 Follow PETA Germany's war zone activities at PETA.org/Ukraine and please consider supporting the Global Compassion Fund's lifesaving missions at PETA.org/GCF.