Please enjoy this article from the latest issue of our magazine, PETA Global, which will be sent to our members next week. To begin your subscription, become a PETA member today!
---
When warm weather and sunny skies beckon us outside, no one wants to spend all day in the kitchen—and you won't have to, with these fast, fresh, affordable dishes adapted from recipes by Melissa Copeland. Prepping meals throughout the week—and whipping up double batches—makes quick work of putting dinner on the table. And beans are always less expensive than meat, so when you stick to staples like legumes, rice, pasta, and tofu, you'll have enough dough left over for summertime fun!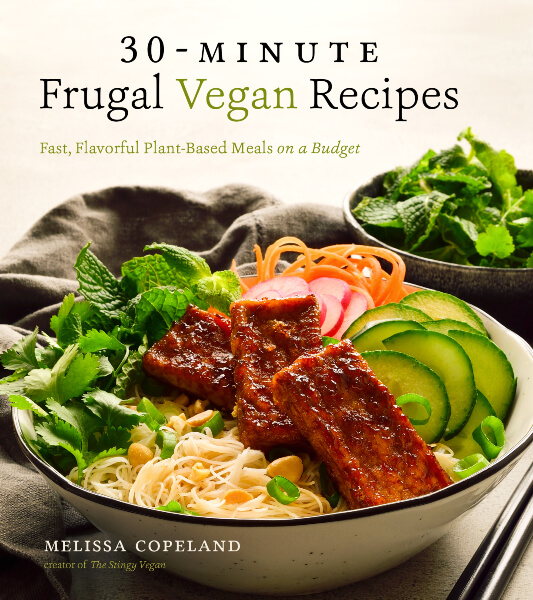 'Clam' Chowder
Makes 4 servings
YOU'LL NEED

4 leeks, thinly sliced, white and green parts separated

3 large potatoes, peeled and cubed

2 cups vegetable stock

2 cups chopped oyster mushrooms

3/4 cup warm water

1/2 tsp. soy sauce

1 tsp. miso paste

1/2 tsp. apple cider vinegar

1/2 cup cashews, soaked in water overnight then drained

1 stalk celery, diced

1 large carrot, peeled and diced

1 tsp. dried thyme

Juice of 1/2 lemon

Salt and pepper, to taste
METHOD
Place the white parts of the leeks, 1/3 of the potatoes, and a splash of water in a pan over medium heat and sweat the vegetables for 5 minutes. Add 1 cup of the vegetable stock, partially cover the pan, and cook until the vegetables are very soft.
Meanwhile, cook the mushrooms in a small nonstick pan over high heat until browned and crisp.
In a small bowl, whisk together 1/4 cup of the water, the soy sauce, miso paste, and apple cider vinegar. Add to the mushrooms and sauté until the liquid has evaporated.
In a blender, combine the cashews and the remaining 1/2 cup of the water and blend until creamy. Add the leek mixture and an additional 1/2 cup of the vegetable stock and blend until smooth.
In a large pan, add a splash of water, the green parts of the leeks, the celery, carrots, thyme, and remaining potatoes. Sauté until soft. Stir in the remaining vegetable stock, the cashew cream, mushrooms, lemon juice, salt, and pepper and heat through.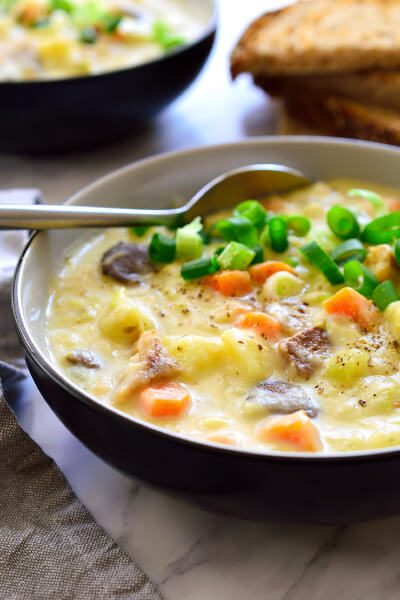 BBQ Tempeh Burritos
Makes 4 servings
YOU'LL NEED

1 package tempeh

1 Tbsp. oil

1/4 cup barbecue sauce

2 medium tomatoes, diced

1 large avocado, diced

1/2 medium red onion, diced

1 Tbsp. diced jalapeño

1/2 cup chopped fresh cilantro

Juice of 1/2 lime

Pinch salt

4 large tortillas

2 cups densely packed chopped lettuce

Optional: vegan cheese, sour cream, rice, beans
METHOD
Slice the tempeh into strips. Use a nonstick pan or heat oil in a large pan over medium heat. Add the tempeh and cook until golden brown on both sides.
Brush barbecue sauce on both sides of the tempeh strips and continue cooking to caramelize. Remove from the heat and brush with any remaining barbecue sauce.
To make salsa, combine the tomatoes, avocado, red onion, jalapeño, cilantro, lime juice, and salt in a bowl.
Fill each tortilla with lettuce, salsa, and a few strips of tempeh (plus optional fillings, if using).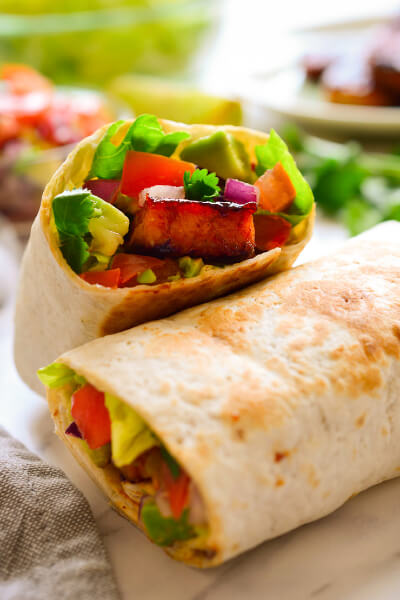 Strawberry Mousse Tarts
Makes 3 servings
YOU'LL NEED

2 cups fresh strawberries, chopped

2 Tbsp. sugar

Pinch salt

6 vegan graham crackers

1/2 cup pitted dates

2 Tbsp. coconut cream from a chilled can of coconut milk

3 Tbsp. chilled aquafaba (the liquid from a can of chickpeas)

3/4 tsp. agar-agar powder

Optional toppings: nondairy whipped cream, sliced strawberries, mint, chocolate drizzle, lemon
METHOD
In a bowl, toss the strawberries with the sugar and salt. Set aside for 30 minutes.
Meanwhile, grind up the graham crackers and dates in a food processor. Divide the mixture into thirds and press each into a small tart pan.
Strain the strawberries over a small pot, catching the juice. Simmer the juice over medium heat until reduced by half. Purée the strawberries in a food processor. Remove the pot from the heat and add the strawberry purée and coconut cream. Set aside.
Using an electric mixer, whip the aquafaba for 5 minutes until stiff peaks form.
Return the pot to medium heat, bring to a simmer, and whisk in the agar-agar until the mixture thickens, about 1 to 2 minutes.
Transfer to a bowl and gently fold in the aquafaba one tablespoonful at a time to maintain as much air in the mixture as possible. Pour into the tart pans and refrigerate until set, about 15 minutes.
Gently remove from the pans and decorate with the optional toppings if desired.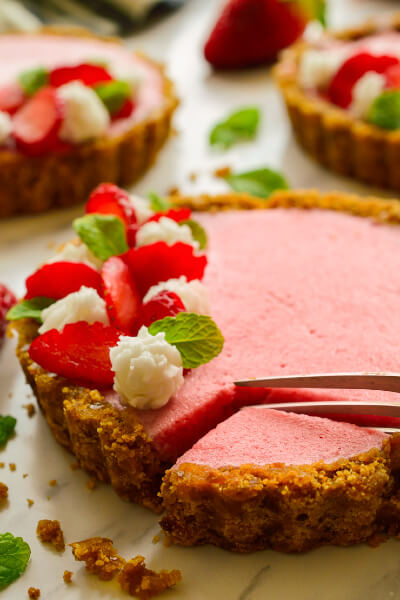 Cookbook and Recipe Photos: © Melissa Copeland, author of 30-Minute Frugal Vegan Recipes and creator of "The Stingy Vegan" blog