Please enjoy this article from the latest issue of our magazine, PETA Global. To begin your subscription, become a PETA member today!
Become a PETA Member!
---
Jessica Alba did it. So did Hilary Duff and Reese Witherspoon. They ordered "purebred" dogs from a breeder, much as one might order a handbag or a pair of shoes. Alba even tagged the breeder on social media, sending more clients their way. She later removed the tag, but the damage was already done.
Then, Love Island star Molly-Mae Hague found herself in hot water online after her new Pomeranian puppy had a seizure and died six days after being shipped all the way from Russia. A necropsy revealed that part of his brain was exposed because his skull hadn't fully developed and that he didn't have a single white blood cell in his body.
Purebreds are plagued by health problems like these – a result of being inbred and bred for appearance. Norway has even banned the breeding of British bulldogs and Cavalier King Charles spaniels because doing so would violate the country's animal welfare laws.
PETA's billboards and ads blast vanity-driven purebred purchases for fueling the cruel breeding industry and killing homeless dogs' chances at adoption. And PETA goes undercover to reveal what breeders and pet stores will never show their customers, including at a shoddy Jack Russell terrier–breeding operation in rural Michigan.
Jack Russell Terriers Shivering in the Freezing Cold
At JRT John's Jack Russell Terriers, a breeder named John D. Jones kept dogs outdoors in barren pens full of snow, ice, and mud. There was no heat and almost no straw inside their inadequate shelters. They got drenched in rain and sleet, and their bodies shook from the bitter cold. When PETA's investigator asked for permission to give the freezing dogs extra straw, Jones refused.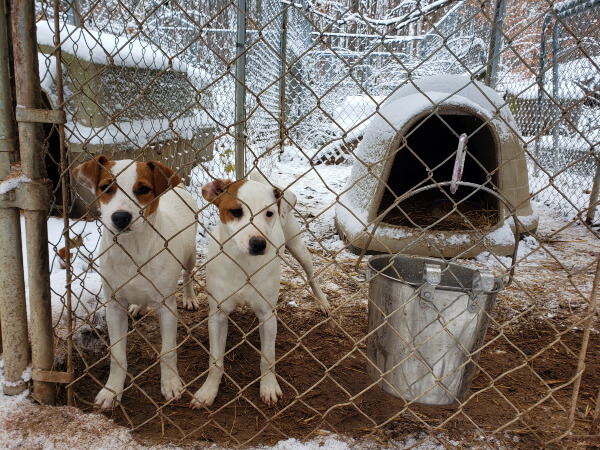 The dogs' drinking water froze daily. A few dogs managed to punch holes in the ice to lick up some water, while others went thirsty. When PETA's investigator dumped out the ice and poured in water, the dogs were so thirsty that they drank and drank and drank.
Lonely, Exploited, and Aching for Homes
All dogs crave companionship, exercise, and stimulation, but these dogs had none of that. They frantically circled their kennels; paced back and forth endlessly; barked incessantly; and leapt up and down clawing at the fencing.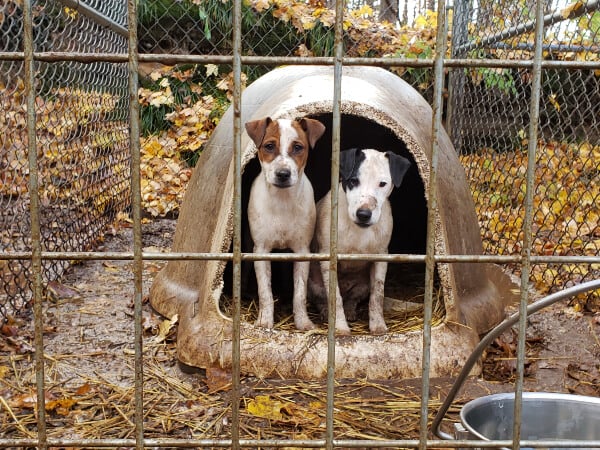 Then there was the carport. That's where Jones kept mother dogs and their newborn puppies in wooden boxes (shown on the cover) and where they lay on urine-soaked straw. The air reeked of ammonia, which the nursing mothers and their pups had to inhale for weeks, through noses thousands of times more sensitive than ours. Before selling the puppies, the breeder used nail clippers to cut off their dewclaws, which have bones in them and are akin to our thumbs, and twisted off their tails – all without any pain relief. The mothers could see and hear their puppies screaming. PETA's investigator caught it all on video.
PETA Pushed Relentlessly Until the Dogs Were Freed!
That video footage and all of PETA's damning findings were presented to the local sheriff, but he did nothing as weeks went by and temperatures plummeted well below freezing. That's when PETA turned up the heat, bringing caring souls to the town for a sit-in at the Sheriff's Office, rallying thousands of supporters to make the sheriff's phone ring off the hook, and flooding his inbox with e-mails. It worked!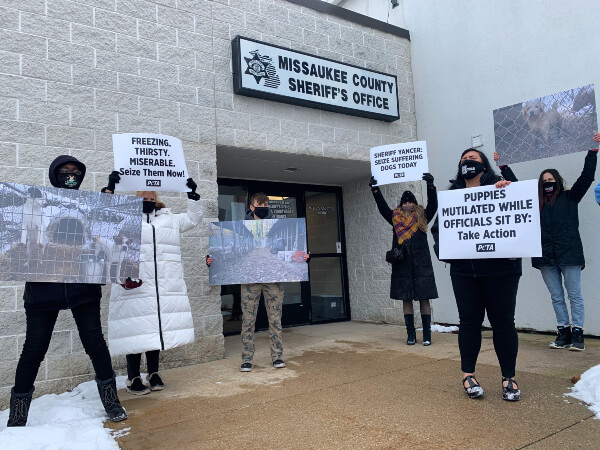 Animal control agencies rescued all the dogs, and based on PETA's evidence, Jones was charged with three felonies for neglecting dogs and severing their dewclaws and tails without pain relief and three misdemeanor counts of violating other animal protection laws – as well as two felonies for assaulting, resisting, and/or obstructing police. A judge ruled that 39 dogs not be returned to Jones and instead be placed for adoption!
YOU Can Help Shut Down the Puppy Pipeline
Breeders like Jones operate in every country, and they will exploit dogs as long as people keep buying them. It's up to us to stop being seduced by that doggie in the window (or online). Never, ever buy animals from breeders or pet stores, and tell everyone you know why they shouldn't, either.
Want To Help PETA Stop Cruelty in Your Area? Join PETA's Action Team!