We know how much you love your family and friends—including, of course, the animals in your life. Each of us has loved ones who rely on us. We also understand how important it is to plan ahead so we can rest easy, knowing that everyone we care about will always be protected.
To help you get started, PETA's legacy-planning experts will host an upbeat and informative 30-minute webinar on Thursday, August 4, at 8 p.m. ET/5 p.m. PT.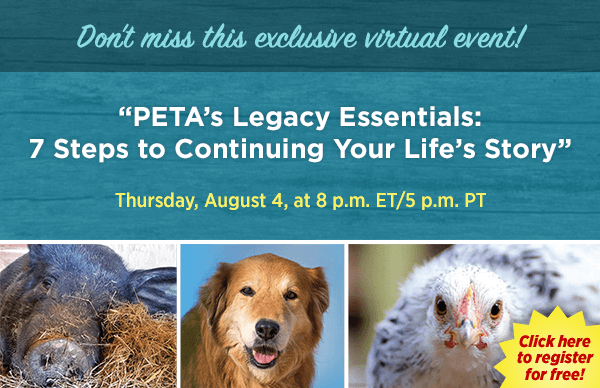 Help us kick off National Make-a-Will Month this August and join PETA President Ingrid Newkirk and legacy-planning experts Daniella Ramadei and Jennie Taylor as they explain the simple steps for continuing your life's story—protecting your loved ones, yourself, and your convictions into the future. Everyone who registers can request a complimentary Legacy Starter Kit to include a legacy in their story.
Don't wait! Register for free right now, and get ready to learn all you need to know in order to ensure that your own story of compassion lives on.