This is the second half of our special report on 20 years of PETA's disaster relief efforts. If you missed part one, you can read it here.
Wherever a tragedy puts animals at risk, we're there to help them. PETA entities worldwide, often working together with local groups, quickly mobilize rescuers and send them into the hardest-hit areas to reach the victims who might otherwise be overlooked: the animals. From those who were stranded in Texas during Hurricane Harvey to the ones whose guardians were lost or unable to reach them following the attacks on 9/11, your support has helped ensure that PETA is always ready to respond when animals need us most.
Here are a few of their stories:
Hurricane Maria
Who can forget the devastation that Hurricane Maria brought to Puerto Rico in 2017? PETA's Emergency Rescue Team certainly won't, nor will the many animals they helped save. Our members and Sam's Club donated bags upon bags of food that the team distributed to families and devastated animal shelters on the island. While local shelter workers kept countless animals safe as the storm raged, many of their buildings were damaged and their resources depleted. PETA workers spent days helping overwhelmed rescue centers recover and rebuild.
The shelter was surrounded with fallen trees & debris– devastation in every corner. PETA team helped clean up the mess! ❤️ #PuertoRico pic.twitter.com/dHa9xdT1Nr

— PETA (@peta) October 5, 2017
While combing through the devastated streets for survivors, our team found Chihuahuas buried under a crumbled home, dogs still fastened to their chains in the rubble, and a pregnant dog and her male companion whose paws had been badly burned. After two weeks on the ground in Puerto Rico, the team flew several of the animals—including Pedro, a puppy whose leg was badly infected and swollen to twice its normal size—back with them to the U.S.. After months of medical treatment and rehab, Pedro overcame the traumatic ordeal and is now getting the TLC he deserves from his new family. Learn more about our Hurricane Maria rescue work in the video below:
Hurricane Harvey
The back-to-back hurricanes of 2017 could have resulted in many more tragedies were it not for the unwavering support of PETA's members. Thanks to you, we flew to Texas to bring much-needed relief to animals affected by Hurricane Harvey. Wading through filthy waist-deep water, climbing into abandoned homes, and shimmying into crawlspaces, the team found kittens clinging to the top of a patio umbrella and a grill, dogs surrounded by deep water, and many, many other animals in danger. We were able to reunite several of them with their guardians, and many others were taken to safety at local shelters. When the team returned to PETA's headquarters, they had 67 extra passengers. Our shelter partners in Virginia had kindly agreed to take in animals from Texas-area rescues in order to free up space for displaced animals until their families could be located.
Neighbors let us know about dogs barking and stranded in someone's garage for days. We got them to a shelter! #Harvey pic.twitter.com/HY4yGwq1Ru

— PETA (@peta) September 5, 2017
Hurricane Matthew
As Hurricane Matthew approached in 2016, PETA staff members worked the phones, getting as many chained dogs indoors and out of harm's way as they could. It paid off, as many residents listened. After the storm, our fieldworkers were out doing what they do best—saving animals' lives—when they were surprised to see a small puppy dart out of the woods in a sparsely populated area and head right for their van.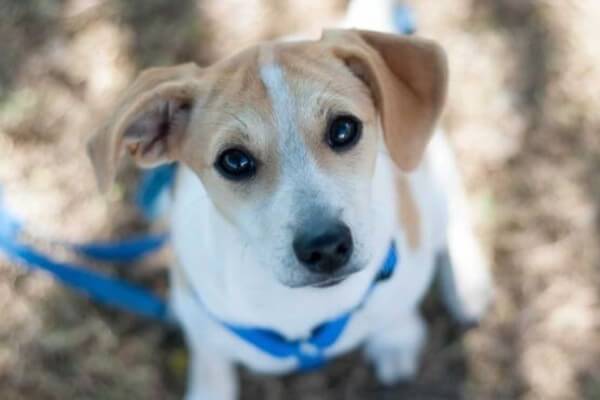 They stopped the van and barely had a chance to grab a leash and a can of food before the puppy rushed up to them and practically threw herself into the vehicle. You can only imagine how terrified she was, after spending the night outdoors exposed to the lashing rain, howling wind, flashing lightning, and rumbling thunder. She must have thought her eyes were deceiving her when our fieldworkers came along and saved her.
They filed a "found dog" report with local authorities and then rushed the 5-month-old puppy back to our headquarters, where she got a solid meal and a warm bed for the night. Staff dubbed her "Emmy," and she wasted no time charming them with her bubbly, outgoing personality and dainty butterfly kisses. Astoundingly, no one came forward to claim her, but that was OK—plenty of adopters wanted to win an Emmy all their own.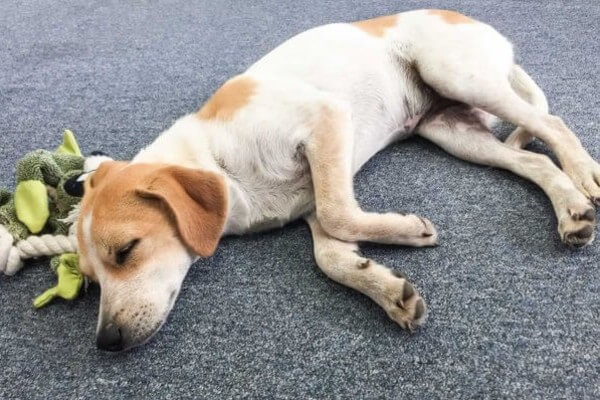 Hurricane Irene
In 2011, Hurricane Irene damaged PETA's vans and our building, but it didn't damage our resolve. We still had two vans left, and emergency responders ran them day and night, picking up all the lost, abandoned, and displaced animals good Samaritans called us to report—and many others along the way. A kitten had been swooped up by a kind ambulance crew, two wild bunny babies were suffering from exposure and starvation, and a dog had found his way to a fire department and collapsed, exhausted, on the floor, waiting for help. Three cold, hungry, and wet baby squirrels were found hidden inside the hollow trunk of a tree by a man who had begun cutting it up after it fell onto his house. A long wait ensued, but no mother was found, so the babies had to be taken in by PETA staff and bottle-fed.
As PETA was out rescuing animals, the community came together to help rescue our building. Volunteers worked alongside our operations crew to clean up the fiberglass, plasterboard, metal pipes, and all manner of other debris that had come loose so that the rescue team could focus on the task at hand.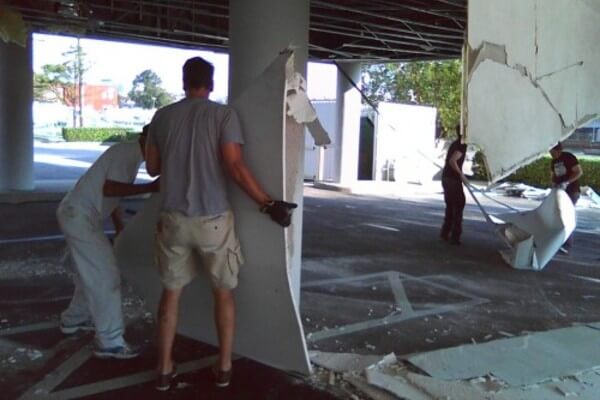 Where they couldn't drive, rescuers walked. And where they couldn't walk, they swam, to ensure that no call for help went unanswered.
The Fukushima Earthquake and Tsunami
Fukushima, Japan, was hit with a triple whammy in 2011: an earthquake and an ensuing tsunami in an area that houses a nuclear power plant. Because of fears of radiation poisoning, the Japanese government quarantined a zone of 12 square miles around the plant, not allowing anyone to enter. However, the area was home to hundreds of thousands of animals who were being raised for food, and if no one helped them, they would likely slowly die of starvation or dehydration. PETA Asia staffers offered—at their own risk—to help these animals but were not granted permission. So they mobilized animal advocates around the world to demand that the government either transfer the animals out of the area or at least humanely euthanize them. It worked! Japan's prime minister ordered the governor of Fukushima to euthanize all the abandoned farmed animals, preventing them from enduring prolonged suffering.
A PETA Asia staff member was on the first flight into the area following the disaster. While there were no signs of life in the hardest-hit regions, she found people in the outlying areas who refused to evacuate their shaking homes because they couldn't take their animals with them. Working with local group Animal Friends Niigata, PETA Asia distributed a large amount of pet food—which was critical, as people lined up for blocks for a chance to get whatever they could as food and other supplies came in. PETA Asia's relief worker was also able to help at the Animal Friends Niigata shelter, as workers agreed to take in all the animals they could and care for them while their guardians sought temporary refuge in evacuation centers.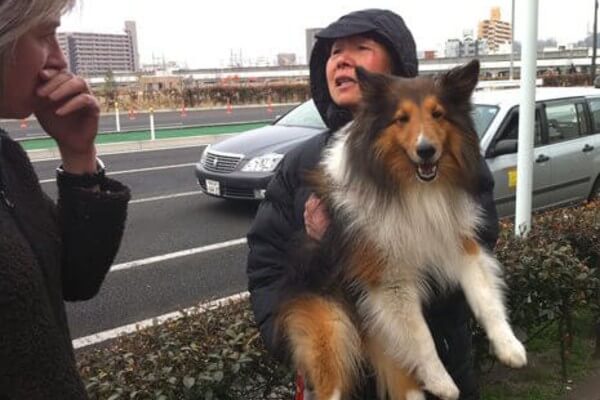 The devastation was heartbreaking, but rescue workers who searched for humans who had been buried in debris were also diligent in looking for animals and bringing them to safety. Shelters worked magic by finding places to care for them, and many veterinarians volunteered their services. PETA Asia kept in contact through the months-long recovery effort, sending donations, food, medicine, and anything else that it could. In return, the group received accounts of all the animals who had been saved, thanks to a network of volunteers who refused to give up.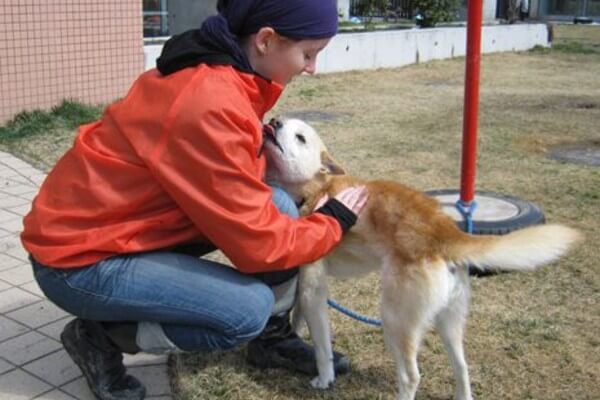 Hurricane Katrina
It was the costliest natural disaster and the fifth deadliest hurricane in U.S. history. As hundreds of thousands of refugees fled their homes in 2005, leaving behind countless animals, PETA traveled in the opposite direction, coming to the aid of the hurricane's animal victims. The teams going from house to house in search of human survivors worked out a system of spray-painting "dog" on the outside to alert animal rescuers. Our team was able to save hundreds of animals from these abandoned homes and get them to shelters. On the return trip, they rented a huge RV, loaded it up with all the animals they could, and brought them back for PETA to care for as we searched for their guardians. We were able to reunite several, and those whose families couldn't be located found new love with patient, caring adopters.
The 9/11 Attacks
None of us will ever forget exactly where we were on September 11, 2001—but there would have been many more victims of the terrorist attacks if not for quick-thinking animal advocates. Residents of apartment buildings near the World Trade Center who fled in panic didn't realize that it would be days before they were allowed to return. Others were at work and rushed home to find their entry barred. PETA's phones lit up with calls from New York City residents desperate to get to their animals.
A special PETA rescue team in the city went to work, helping to reunite animals with their guardians. We plastered the area with "wanted" posters in order to gather information on animals whose guardians were missing. Actor Rue McClanahan, who lived in the city, made a special appeal to building superintendents to listen for sounds from animals behind locked apartment doors. "The dearly beloved animal family members of those who died must not become another part of the casualty toll," she said. Because of the efforts of many kind people, countless lives were saved in the aftermath of the attacks.
*****
PETA supporters have helped us rescue animals from numerous other floods, hurricanes, earthquakes, and tornadoes. You've helped us send critical information about protecting animals to media around the world in advance of disasters to prevent tragedies before they occur. You've helped us spend days calling people with chained dogs, urging them to bring their animals indoors to safety when the weather turns dangerous. You've provided countless victims of tragedies of all sorts with food, water, and medical care.
To everyone who has rushed crisis donations to PETA's Animal Emergency Fund, thank you. If you'd like to give a loved one the gift of saving a life, please consider making a donation in their name to help PETA continue to rescue animals anywhere they need us most.