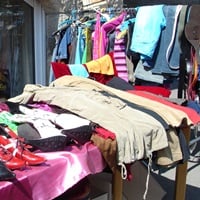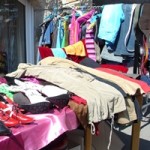 Household cleaning is not just for springtime! Almost any time of the year can be a great time to clean out your closet for a greater purpose—to help animals! Pull out your old jewelry, dust off those electronics that have already been replaced, and get rid of the books and old furniture clogging up your storage space. Then host your very own Beasty Bonanza!
Hosting a Beasty Bonanza is an excellent way to turn those forgotten or unused items into cash to support PETA's many vital campaigns for animals. Invite your neighbors to come out on the day of your sale and purchase all sorts of exciting items, such as DVDs, antiques, and exotic treasures. It's easy! Just follow these 10 easy steps to get started:
1. Set the date and location for your yard or garage sale.
2. Collect items! Clean out your basement, attic, or storage closet, and ask friends and neighbors to donate or join you on the day of the sale.
3. Spread the word! Make fliers to post around town, and be sure to go online and create a Facebook event and promote it on free online resources such as Craigslist. Be sure to tell all your friends to help make it the best "Beasty Bonanza" that your city has ever seen!
4. Remove the cruelty from your yard sale. Did someone give you an old fishing pole? Turn the rods into a durable kite frame!
5. Get up early on the day of the sale to set everything up. We recommend pre-pricing your items using small stickers. You're likely to have a rush of buyers in the first hour, so be prepared!
6. Put up pictures of animals representing the various forms of cruelty that your Beasty Bonanza is working to stop.
7. Order some PETA literature to have on hand, and share it with buyers and browsers.
8. Have some cruelty-free munchies for sale, such as vegan donuts, PETA coffee, lemonade, or vegan cookies.
9. Engage shoppers! Ask them what they are looking for, and tell them why you are hosting this fundraiser to help animals.
10. HAVE FUN! Remember: You are doing more than raising funds to stop cruelty. You're also raising awareness of animal-welfare issues and making a difference for animals!
Once you're done, send the proceeds to PETA with a note than you hosted your own Bonanza. Let us know how much you raised, and we'll send you a special thank-you package!
Can't host a yard sale? Check out PETA's E-Bay page,  where you can sell items anytime, anywhere!
Happy cleaning!