One year ago, Taal Volcano in the Philippines—where PETA Asia had been holding veterinary clinics since 2016 to help the horses forced to haul tourists up the volcano's steep sides—violently erupted, sending a massive plume of smoke and lava 9 miles into the air.
The blast covered Taal Island with a heavy blanket of ash and forced everyone in the area to evacuate. Dogs, cats, pigs, goats, horses, chickens, ducks, and other birds were stranded as the rumbling volcano threatened to erupt again. PETA Asia staffers rushed to aid animals in the lakeside evacuation zone surrounding the island while pleading with government and military officials to let them rescue those who were trapped on the island. Every time, they were refused. However, as PETA Asia Senior Vice President Jason Baker put it:
"We're PETA, so 'no' means 'try harder.'"
Within 48 hours of the first eruption, the team was dashing across Taal Lake in a boat loaded with hundreds of pounds of food and fresh water. Stepping onto the island and seeing the devastation for the first time, they were speechless.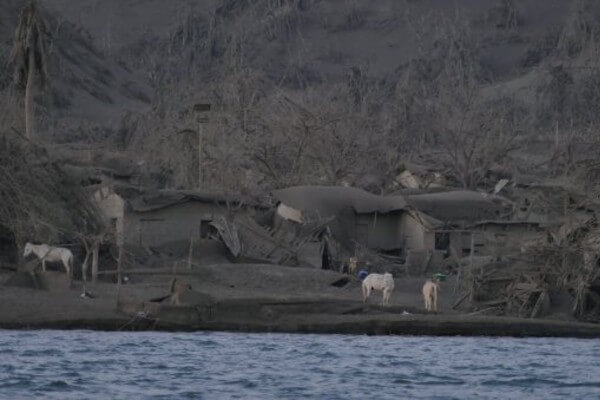 It was hard to tell what was what under the mounting piles of cinders. The situation looked grim for the island's animals. Remarkably, though, many survived. Their coats and eyes were crusted with ash, and they were hungry, dehydrated, and terrified.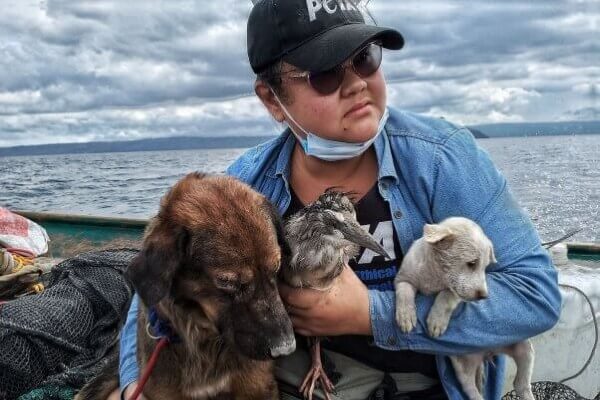 For the next several weeks, the rescue team zigzagged back and forth, ferrying food and water onto the island and animals off of it. Even in what was once the evacuation zone on the mainland, families had been forced to leave because of the imminent threat of a larger eruption and animals there needed help from PETA Asia's rescuers.
PETA has been working restlessly to help animals affected by the #TaalVolcano eruptions. We're trying to get onto the island, & are giving water & food to animals inside the evacuation zone. The dogs in the video are two of the many animals abandoned inside the evacuation zone ☹ pic.twitter.com/cmXKssgjKU

— PETA Asia (@PETAAsia) January 13, 2020
It took the entire staff and a dedicated group of volunteers working around the clock—soon in the middle of the COVID-19 pandemic—but hundreds of animals were saved. Many were reunited with their guardians, and more than 100 others found refuge at PETA Asia's partner veterinarian. Here, they received baths, treatment for their injuries, vaccinations, spay/neuter surgeries, leash training, exercise, socialization, and love.
Now, on the one-year anniversary of the Taal Volcano eruption, we're delighted to report that all these animals have been placed in loving homes.
Here are just a few of them, including Pedro, who lost his leg but not his spunk; Palakitik, a sweet "community dog" who had been visiting her PETA Asia friends at the horse clinic for years; and Jonald and Regan, who are now dog and cat brothers and best friends. All of them and many, many others have found loving homes at last.
To all of PETA's and our international affiliates' supporters who donated the supplies, time, and/or funds that made these rescues possible: Thank you. We are only able to provide animals with vital services because of you.
*****
PETA's Global Compassion Fund helps us support a network of committed local groups that are changing animals' lives and raising awareness of animal rights in areas where it's needed most. If you're able, please consider a tax-deductible gift to support our work to make a difference for animals around the world.
Support PETA's Global Compassion Fund